St. Joseph's Day Pasta Spaghetti di San Giuseppe
St. Joseph's Day Pasta Spaghetti di San Giuseppe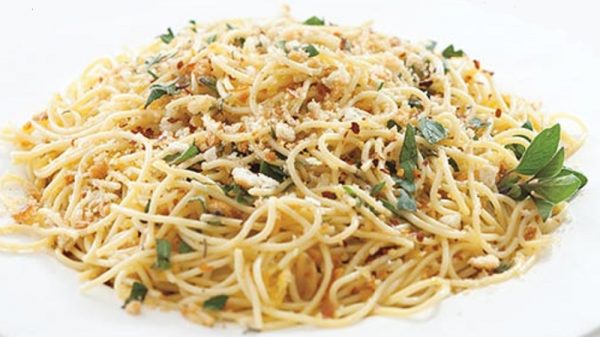 St. Joseph's Day Pasta is also called Sawdust Pasta or Carpenter's Pasta, and a great way to honor St. Joseph, the foster-father of Baby Jesus. Since Joseph was a carpenter by trade, it is fitting to serve a pasta that resembles sawdust the sawdust on his carpenter's workshop floor.  — but tastes much better!
Spaghetti in an anchovy sauce with breadcrumbs

Ingredients
Prep time
Cook time
Total time
Serves: 6
9 anchovy fillets in olive oil, drained

sea salt

1 pound spaghetti

½ cup olive oil

6 large garlic cloves, minced

Large pinch of red pepper flakes

2 tablespoons chopped fresh parsley

⅔ cup toasted fresh breadcrumbs
Instructions
 Making Breadcrumbs  skillet or oven
Skillet
Warm 2 tablespoon olive oil in a 10-inch skillet over medium heat.

Add ¾ cup of fresh breadcrumbs and stir to coat with oil.

Cook, stirring constantly, until the crumbs are golden brown and crunchy, about 5 minutes.
Oven
Place ¾ cup of fresh bread crumbs in a bowl with 2 tablespoons olive oil.

Using your hands or a fork, gently combine the ingredients.

Spread the breadcrumbs on a baking sheet and place in a 350 degree F. oven.

Bake about 8 minutes, stirring a couple of times, until golden brown and crisp.

Set the breadcrumbs aside.
Directions
Put a large pot of well-salted water (about 5 quarts) over high heat and bring to a boil. Add 2 tablespoons of sea salt when the water comes to a boil.

Add the spaghetti to the boiling water.

While the spaghetti is cooking to al dente, make the anchovy sauce.

Finely chop 6 anchovy fillets; cut the remaining 3 into ½-inch pieces; set aside.

Heat the olive oil in a large skillet over medium-low heat.

Add the garlic, red pepper, and finely chopped anchovies.

Cook, stirring until the anchovies dissolve.

Add ¼ cup of the pasta water and bring the sauce to a rapid simmer for about a minute.

Remove the skillet from the heat.

Stir in the parsley and remaining anchovies.

Reserve 1 cup of the pasta water and drain the pasta.

Add the pasta and ¼ cup of the pasta water to the skillet with the anchovy sauce.

Toss until the strands are well coated.

Add some of the reserved pasta water if the mixture seems too dry.

Set aside 2 tablespoons of the toasted bread crumbs.

Add the remaining crumbs to the skillet and toss the pasta again.

Transfer the pasta to individual serving bowls.

Top each serving with a sprinkling of the reserved bread crumbs.