Strascinati, Shrimp and Broccoli Rabe
Strascinati, Shrimp and Broccoli Rabe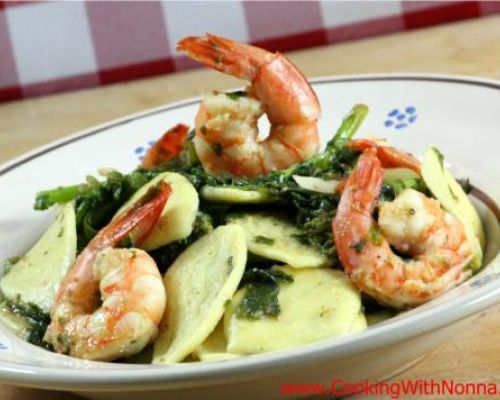 Ingredients
For
4

Person(s)
For the Pasta:
1

pound

Strascinati pasta

1

pound

broccoli rabe

1

pound

medium shrimp

4

fillets anchovies, chopped

5

cloves garlic, sliced

peperoncino, as desired

3

tablespoons

extra virgin olive oil

salt, as desired
Directions
Clean and wash the broccoli rabe. Cut them in small pieces and set aside.

In a saute pan, att 2 Tbps of EV olive oil, let it get hot and add the shrimp. Let them sear on both sides. Set aside.

In the same pan, don not clean it, add 4 Tbsp of EV olive oil and the garlic. Let the garlic turn golden and add the anchovies. Add peperoncino as desired.

Let the anchovies melt and add the broccoli rabe. Toss them for a few minutes, cover them and let them cook for 20 mins. at medium flame.

Start cooking the Strascinate in salted water.

Check on the broccoli rabe. If they get dry, add some pasta water.

After the broccoli rabe have cooked for 20 mins. add the shrimp. Mix and cook for 3 more mins.

Add the Strascinate and toss for 2 mins.

Add a drizzle of EV olive oil and serve.