String Beans with Sage and Pancetta
String Beans with Sage and Pancetta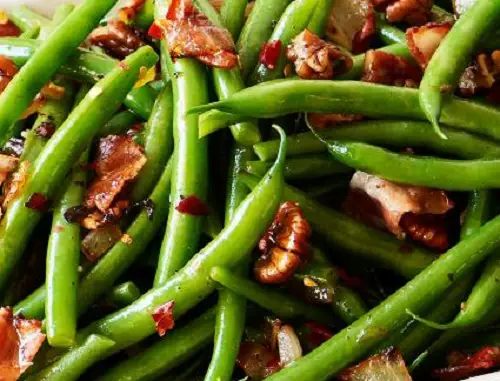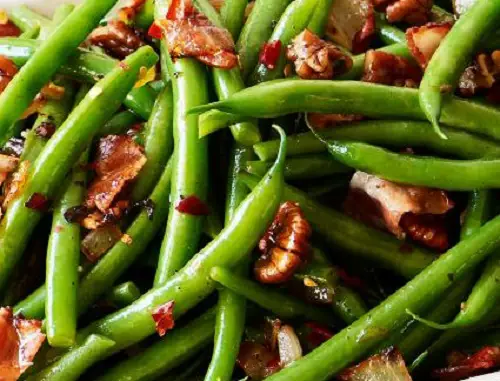 Makes 10 servings.
Ingredients:
2 and 1/2 lbs green string beans, trimmed
8 ounces thinly sliced pancetta, coarsely chopped
2 tablespoons extra virgin olive oil, divided
3 tablespoons coarsely chopped fresh sage
Directions:
Line baking sheet with several layers of paper towels.
Cook beans in large pot of boiling salted water until crisp-tender, 4 to 6 minutes depending on size of beans. Drain.
Spread beans out on paper towels.
Combine pancetta and 1 tablespoon olive oil in large nonstick skillet.
Saute over medium heat until pancetta is crisp, separating pieces with 2 forks, about 10 minutes.
Add sage and stir until fragrant, about 1 minute. Transfer to plate.
Heat remaining 1 tablespoon olive oil in same skillet over medium-high heat.
Add beans and saute until heated through, about 5 minutes.
Add pancetta mixture and toss to blend.
Season to taste with freshly ground black pepper.
Transfer to large bowl; sprinkle with sea salt, if desired, and serve. Makes 10 servings.