Stuffed Acorn Squash with Sausage 
 Stuffed Acorn Squash with Sausage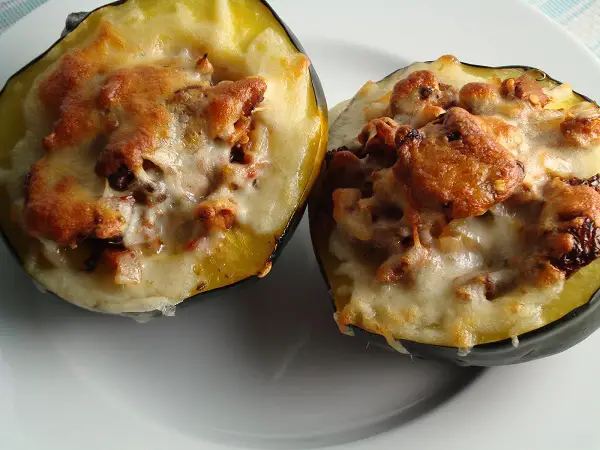 Ingredients
1 medium acorn squash

1 medium onion, diced

3 cloves garlic, minced

Extra-virgin olive oil

Kosher salt and freshly ground black pepper

2 links spicy chicken sausage, casings removed and crumbled

5 or 6 slow roasted tomatoes

1 or 2 tablespoons red wine

Shredded mozzarella cheese
Directions
Preheat the oven to 375 degrees.

Cut the squash in half and scoop out the seeds. Place the squash, cut side up in an 8×8 baking dish. Add about a 1/2 inch of water to the dish, cover with foil and bake the squash for 40-50 minutes until the squash is fork tender, but not mushy.

While the squash is cooking, saute the onions and garlic in a large pan with some olive oil. Season with salt and pepper. Add the sausage and cook through. Add the tomatoes, and a few splashes of wine, making sure to scrape the bottom of the pan.

Remove the squash from the oven. Drain the water. Turn the oven up to 400 degrees. Fill each squash half with the sausage mixture. Top each half with mozzarella and bake for 20 minutes or until the cheese is melted and golden.