Stuffed Eggplant With Ricotta
Stuffed Eggplant With Ricotta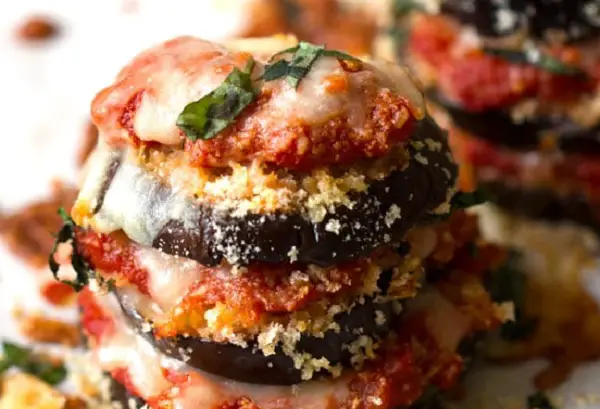 Ingredients:
Serves: 4-6
1 large Eggplant – sliced with skins on (or off if you like it that way)

Flour for dredging

3 Eggs, beaten (more if needed)

Plain Breadcrumbs

Salt and pepper

Oil for frying

Plenty of Parmigiano-Reggiano Cheese to serve with the dish

Chopped Fresh Basil for garnish

For Stuffing:

1 lb. or a 15 oz. container Whole Milk Ricotta Cheese

1/2 C. grated Parmigiano-Reggiano Cheese

2 1/2 Tbsp. Chopped Fresh Parsley

Salt and pepper

1 Beaten Egg
For Sauce:
For a meatless sauce – Try my Marinara Sauce  HERE

For a truly different meatless sauce – Try my Roasted Red Pepper Sauce: HERE

For a sauce with meat – Try my Pork Ragu  – using sausage or pork neck bones: HERE
Instructions:
Slice your eggplant thinly and plan to use the large slices only. Save the small ones for another use.

Press your eggplant slices between paper towels weighted with something heavy ( like cans of tomatoes!) for a couple of hours. Some choose not to do this. I always do.

Make your ricotta filling. Set aside.

Make your sauce. You can make the sauce the day before, if you like.

Place the flour, beaten eggs, and breadcrumbs in separate bowls.

Dredge the eggplant slices in flour first.

Then dip them into the egg to cover.

Then coat them well with breadcrumbs.

Fry the slices in  hot oil – takes just a couple of minutes each side. Drain them on paper towels.

Place a little sauce in the bottom of a 9×13 inch baking dish.

Take each eggplant slice and place a spoonful of ricotta filling in each.

Set the "pockets" in the baking dish with the sauce – fit them close together so that they hold one another up. Line them up making two rows. The recipe makes about 16-18 "pockets".

Spoon a little sauce down the center of the stuffed rows. Don't drown them in sauce. Less is more! If you have sauce left over, serve some on the side with the dish or save it (can freeze) for another use.

Top them off with grated Parmigiano-Reggiano. I like to add some shaved Parmigiano as well – up to you!

Bake at 350 degrees until heated through – about 30 minutes. (depends on your oven)

Serve with plenty of chopped fresh basil.