Stuffed Peppers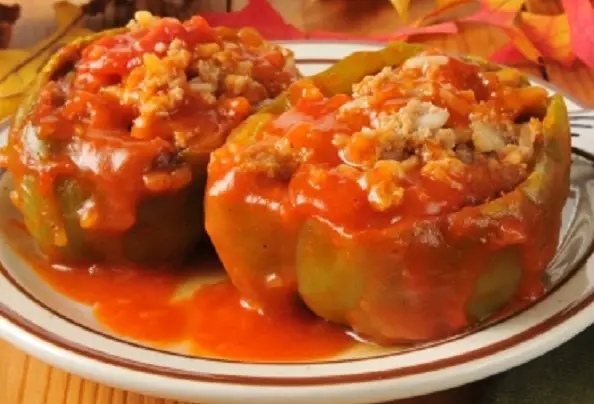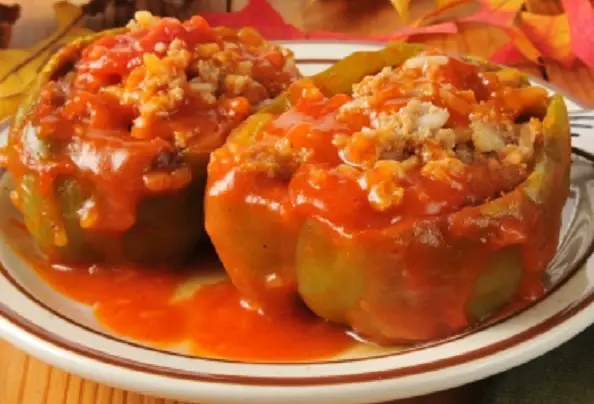 INGREDIENTS
4 large green or red bell peppers tops cut and insides cleaned.

1 pound of ground beef

1 cup of cooked instant rice

1 large yellow onion

3 cloves of chopped garlic

2 Tbls of extra virgin olive oil

2 15oz can of tomato sauce

1 Tbls of oregano

Salt and pepper to taste

1/2 cup of water

1 package of mozzarella cheese

1/2 cup of Parmesan cheese

 

PREPARATION

 

In a large skillet saute onions and garlic in oil for about five minutes.

Add ground beef and cook for 10 minutes breaking up the meat with a wooden spoon. Drain oil.

Stir in cooked rice.

Sprinkle in oregano, salt and pepper.

Add 1 can of tomato sauce

Sprinkle in around 1/4 of the mozzarella cheese.

Cook stirring until cheese is melted.

Place the peppers in a large steamer and cook until tender.

Stuff peppers with the ground beef mixture.

Put some tomato sauce at the bottom of a large baking dish and arrange peppers standing up.

Pour remaining sauce and water over the peppers and top with the remaining mozzarella cheese.

Bake in 350 degree oven until cheese is melted.

Serve with garlic bread and parmesan cheese.