Stuffed Pizza Rolls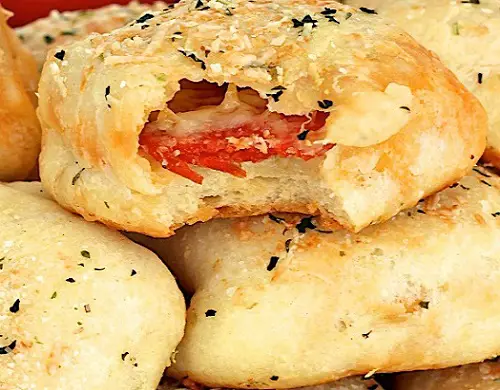 Ingredients
1  pizza dough  (see below to make homemade)

2 tablespoons grated parmesan cheese

1 tablespoon melted butter

1/2 teaspoon garlic powder

1 teaspoon dried Italian seasoning

Mozzarella cheese, diced

Pizza toppings of your choice: i.e., ham and pineapple, pepperoni slices, sausage, etc. (I used diced pepperoni)
Directions
1. Preheat oven to 400 degrees.
2. Unroll dough onto a lightly floured surface. Pat or roll the dough so it's about 12″ by 8″. Use a pizza cutter to slice the dough into 24 squares.
3. Place cheese and desired toppings on each square, about a teaspoon each of cheese and toppings.
4. When all of your dough squares have cheese and toppings on them, carefully lift up each square and wrap the dough around the toppings. Pinch to make sure each ball is sealed shut and then place them seam side down in a lightly sprayed pie pan (or similar sized dish).
5. Brush the tops of the dough balls melted butter and then sprinkle with the garlic and Italian seasoning and top with parmesan cheese.
6. Cook rolls in the oven for about 15-20 minutes or until golden brown on top.
Dough:
INGREDIENTS
    1⁄4  ounce dry yeast

    1 cup water, lukewarm

    1 teaspoon sugar

    3 cups bread flour

    1⁄2 teaspoon salt
Directions
    In a glass or plastic bowl, combine yeast, water, and sugar (the water can just be water from the tap, make sure it's below 100°F).

    Stir to dissolve the yeast and let the yeast "bloom" for 15 minutes.

    Stir in 1 cup flour, add salt, and then stir in another cup of flour (the remaining cup of flour will be your "bench" flour and added flour).

    Dump mixture onto kneading board and work in last cup of flour, kneading until dough is soft and elastic, but not sticky. Form dough into a ball.

    In another bowl, pour in the 1 tbsp olive oil and spread around.

    Coat ball of dough with oil and cover bowl with a damp towel and let dough rise for 40 minutes.

    Punch down dough and knead on board about 2 minutes.