Stuffed Quail With Orange Sauce
Stuffed Quail With Orange Sauce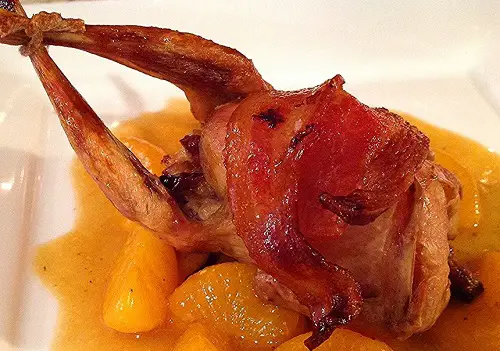 Ingredients
Makes: 4 Quail
Prep: 1 hour 15 minutes
Cook: about 40 minutes for roasting
Stuffing Ingredients
3 Tbsp. Olive Oil

1/2 lb. Mild Italian Sausage – out of the casings

1/2 Onion – chopped

1 Tbsp. Fresh Sage – chopped

1/2 C. Chopped Roasted Chestnuts (these can be purchased now roasted and packaged)

1 Tbsp. Parmigiano-Reggiano Cheese  grated

1/2 C. Fresh Breadcrumbs

(1/2 C. Currants – optional)

1 Large egg
Stuffing Instructions
On medium high – cook sausage, onion, and sage in the olive oil until sausage is browned and onion is tender – About 8 minutes. Break up the sausage with a fork as you cook.

Remove from hear and add the chestnuts, grated cheese, chestnuts, and breadcrumbs – mix together. (Add currants if using)

Add egg and mix.

You can make the stuffing a day ahead. If you do, you should not add the egg until just before you stuff your quail on the day you serve.
Orange Sauce Ingredients
3 Tbsp. Olive Oil

1 Onion – chopped

1 cinnamon Stick

1/2 C. Cognac

2 Tbsp. Honey

1 Tbsp. Balsamic Vinegar

1 Cup Orange Juice

Zest of 1 orange

Pinch Red Pepper Flakes

1 Sprig Fresh Tarragon

1 Bay Leaf

2 Cups Chicken Broth

Salt and Pepper to taste

2 Tbsp. Butter

1 Can (11 oz.) Mandarin Orang slices drained.
Orange Sauce Instructions
You can make this a day ahead.

Cook the onion and cinnamon stick in the olive oil for about 5 minutes.

Then add the cognac – stirring and continuing to cook another minute.

Add the honey, vinegar, orange juice, zest, red pepper flakes, tarragon, Bay Leaf and broth. Add a little salt and pepper. Stir to combine.

Cook for 20-30 minutes at a strong simmer. It will cook down some and thicken slightly. Remember – this is a sauce and not gravy. You can add a little water if it has cooked down too much.

Remove from heat and add the butter and stir in.

Pour all into a food processor or blender and process until smooth.

Add the orange slices and serve or refrigerate until the next day.

This is not a thick gravy. It should be a smooth velvety sauce.

Plan to drizzle a little sauce over each stuffed quail before you roast them. Reserve the remaining sauce for serving.
The Quail Ingredients
4 Quail if using as a first course, appetizer, or if your quail follows a heavier first course. Plan on 8 (2 per person if not serving a first course) You can find them frozen at most markets.

4 slices Bacon
The Quail Instructions
Pat the quail dry.

Cut them up the center of the back and open them up. This is where the stuffing will go. This is easy as they are so small and delicate. Any pair of kitchen scissors should work.

Stuff the inside and secure with two or three toothpicks.

Turn them over, breast side up, secured side down, and place them on your pan. Repeat this process with each quail.

Drizzle a spoonful of orange sauce over each quail.

Cut your bacon slices in half and fold two halves over the breast of each quail.

Take a small bit of string and tie the legs together as you see in the photo.

Roast the birds in a 425 degree preheated oven. for about 10 minutes. Then reduce the oven temp to 325 and continue to roast for another 30 minutes.

If there is left over stuffing just bake it at 325 degrees a few minutes and serve a little with each bird.

I like to nest the birds in a small pool of the sauce with oranges. Bellissima!