Stuffed Shrimp with Crab Meat
Stuffed Shrimp with Crab Meat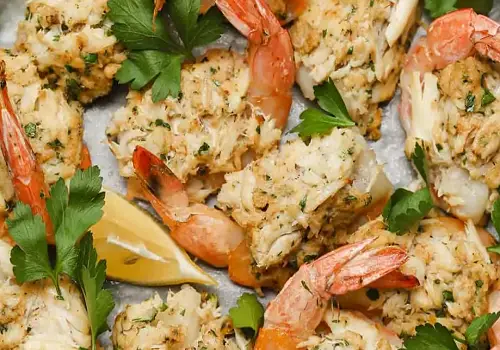 Ingredients
6 Jumbo Shrimp, shell removed, cleaned and butterflied

    1/2 lb. Crab Meat

    3 oz. Butter

    3 Garlic Cloves, minced using a garlic press

    1/2 cup Breadcrumbs

    Handful of Parsley, chopped

    1/2 tsp. Hot Pepper Flakes

    Salt and Black Pepper, to taste
Directions
Preheat the oven to 400°F and place rack in middle position.

To prepare the shrimp, lightly cut down the back to remove the shell. Keep the tails on. After removing the shells, cut a little bit deeper to butterfly the shrimp. Rinse under water and remove the dark line that runs down the back of the shrimp. Set aside.

In a mixing bowl, add the crab meat, a tablespoon of parsley, hot pepper flakes, garlic, two ounces of butter (half a stick), salt and black pepper and mix together until fully combined. Sprinkle in 1/4 cup of breadcrumbs and continue to mix. If too wet, add more breadcrumbs.

Rub a tablespoon of butter onto the bottom of a baking dish or gratin dishes. Leave the remaining butter chunks in the dish. This is so the shrimp do not stick to the bottom of the dish.

Lay the butterflied shrimps flat on a cutting board. Divide the crab meat mixture into six equal parts and place on top of each shrimp. Pick up a shrimp and pack the crab meat onto the top of the shrimp by pressing the crab meat into the shrimp. Place onto the baking dish. Repeat with each shrimp.

Sprinkle the stuffed shrimps' with some breadcrumbs and top off with small bits of butter.

Place the baking dish into the oven and bake for fifteen minutes until golden brown on top.

Remove from the oven and serve. Salute and cin cin!