Stuffed Zucchini Boats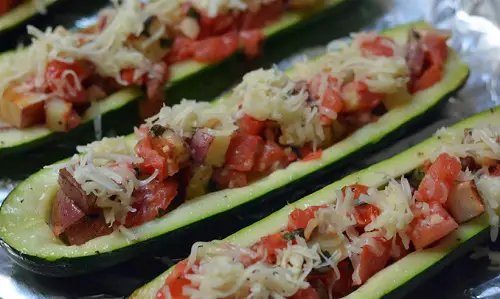 Ingredients
    2 large Zucchini

    1 Roma Tomato finely chopped

    3 med red potatoes cut into small cubes

    1 small onion chopped

    1 cup shredded Monterey Jack cheese

    1 1/2 tsp minced Garlic

    1/3 cup Basil

    4 Tbsp Olive oil

    salt and pepper to taste
Instructions
    Preheat the oven to 400 degrees F.

    Toss potato cubes with 2 teaspoons of olive oil. Place in single layer on a baking sheet. Roast potatoes, stirring occasionally, until potatoes are tender and browned, about 25-35 minutes.

    Slice each zucchini in half lengthwise. With a spoon, scoop out the seeds and most of the flesh. Reserve the flesh to use at a later time. Lightly brush the zucchini "boats" with 1 tablespoons of olive oil and season with salt & pepper. Place on baking sheet, cut side down, roast 10 minutes.

    While zucchini and potatoes are roasting, heat remaining olive oil in large non-stick skillet. Sauté onions until they are soft. Add garlic & tomatoes, heat for another 2-3 minutes or until the tomatoes are soft. Remove from heat and add ½ cup cheese, roasted potatoes and basil, stir until combined.

    Remove the zucchini skins from the oven and stuff with the filling.

    Sprinkle with remaining cheese and return to the oven for 4-5 minutes or until the cheese is melted.