Sweet Italian Chicken Risotto
Sweet Italian Chicken Risotto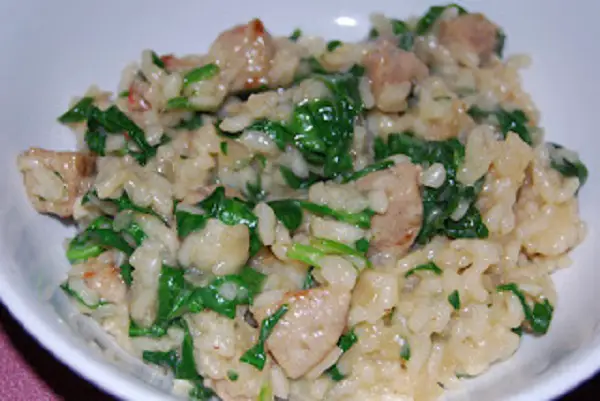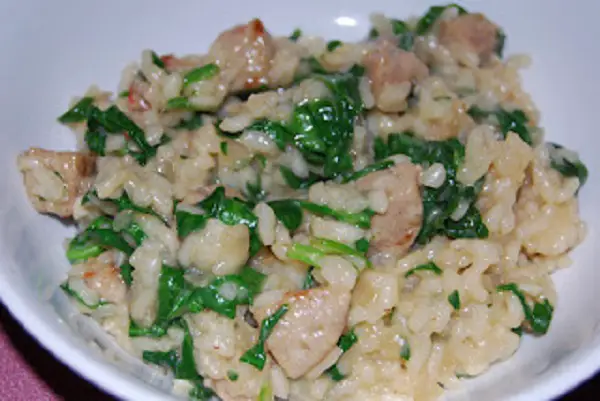 Ingredients
1-12oz package (cooked) Sweet Italian Chicken Sausage,cut into 1/4" slices

1 tbsp olive oil

1 cup chopped sweet onion

1 tbsp minced fresh garlic

½ tsp dried thyme

1-1/4 cups Arborio rice

1 cup Chardonnay or other dry white wine

4 cups chicken broth, low-sodium

3 cups chopped spinach
Directions:
Heat broth in a saucepan

In a heavy, large Dutch oven or saucepan, heat oil over medium heat.

Sauté sausage and onion until onion is translucent, about 3 minutes.

Add garlic and thyme and cook until garlic is fragrant, about 30 seconds

Add rice and wine; stir 1-2 minutes or until wine is absorbed

Add 2 cups of stock. Lower heat to medium-low and simmer, uncovered, until broth is absorbed, stirring occasionally, for about 15 minutes

Continue adding stock, 1/4 cup at a time, stirring until liquid is adsorbed and rice is tender and creamy, about 10-15 minutes

Stir in spinach to wilt and 1/4 cup Parmesan; cook 1 minute or until heated throughout.

Season with 1/4 tsp black pepper.

Garnish with parsley and remaining cheese.

Serve immediately.