Sweet Potato Agnolotti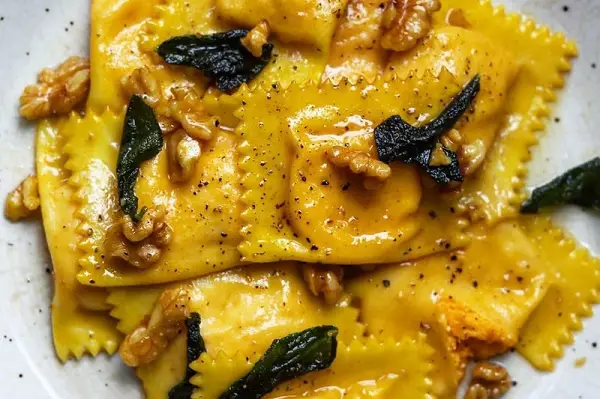 Makes: About 3 dozen
Prep: 30 minutes for filling; 2 hours for dough and cutting
Cook: about 5 minutes
Ingredients
for Filling
1 large Cooked Sweet Potato

1 Cup Whole Milk Ricotta Cheese

2 Tbsp. grated Parmigiano-Reggiano cheese

Salt and Pepper to taste

A little grated fresh nutmeg – optional
Instructions
for Filling
Remove and discard the skin from your cooked sweet potato and place the pulp in the bowl of your food processor. Cool a little.

Add to the bowl:  the ricotta, grated cheese, salt and pepper, and nutmeg, if using.

Give a few turns in the processor to complete combine the ingredients. You should have a smooth mixture.

Set aside until ready to fill your agnolotti.
Ingredients
for Dough
300 grams Double Zero Flour

3 Extra Large Eggs

1 Tbsp. Olive Oil

1 Tbsp. Cold Water

Additional egg – beaten
Instructions
Place above ingredients except the additional egg in the bowl of your food processor and give several turns until the mixture comes together into dough.

Turn it out on a floured surface.

Knead about 5-6 minutes. Use the heel of your hand to push down on it with each turn. Really work the dough as this will make it tender.

When it becomes smooth and elastic, cover with plastic wrap and let it rest 30 minutes – IMPORTANT!

When ready to use – take off the plastic wrap and cover with a lightly dampened towel. Keep covered as you use it. Break off a small piece at a time and run it through the pasta roller on ZERO or lowest setting about 3 times, folding the piece over each time. This kneads the dough further. ( I use a hand crank machine.)

Then run it through each of the numerical settings on your machine ending with number 7. Lay your sheet of pasta horizontally on a towel or board.

Brush the top edge with a beaten egg. Place a spoon of filling all across the sheet of pasta making each a few inches inches apart.

Fold the bottom edge of the dough over the upper half with the spoons of filling and seal with your fingers at the top and in between each spoon of filling.

Cut in half moons with a pie cutter, knife, or with a glass. Press to seal again and set aside on floured surface.

Proceed as above with the rest of the dough and filling.

If freezing your agnolotti, freeze them first in a single layer on a sheet pan. Then transfer to a plastic bag or container to freeze until ready to use. Do NOT defrost before using. Drop them directly into boiling water and remove them to a serving dish with a slotted spoon or spider.

Serve them with butter, browned butter, some toasted pistachios or hazelnuts, and fresh sage or fresh basil and grated Parmigiano- Reggiano or grated Asiago.