Tagliatelle Dolci di Carnevale
Tagliatelle Dolci di Carnevale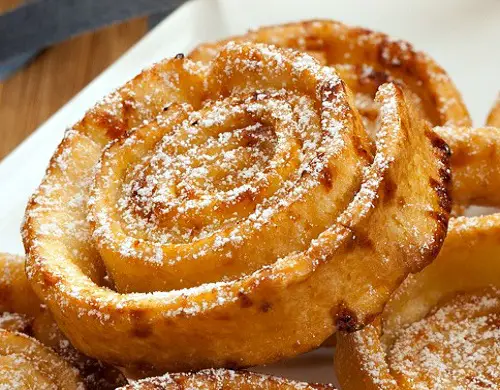 Tagliatelle Dolci di Carnevale – fried "tagliatelle" filled with sugar & orange zest, fried and dusted with icing sugar, a typical Italian Carnevale sweet.
Prep Time 40 minutes Cook Time 20 minutes Total Time 1 hour
Servings 4
Ingredients
    1 ½ cup flour
    2 eggs
    4 tbsp granulated sugar
    Zest of 1 orange grated
    Vegetable oil for deep frying
    Icing sugar to serve
Instructions
    Put the flour and eggs in a mixer and blend them until they become like breadcrumbs. Then pour the mixture onto a floured working surface and knead well until you get smooth dough.
    Make it into a ball, cover it with cling wrap and keep it aside to rest for 30 minutes.
    Roll the dough to about 1/16 to 1/8 inch thick circle.
    Sprinkle with the granulated sugar and grated orange peel.
    Roll the dough on itself like a Swiss roll and, using a sharp knife, cut ½ inch slices, as if you were making real tagliatelle. Keep them aside without opening the "pinwheels".
    Deep fry them in batches in vegetable oil at 170°C – 340°F. When golden brown, put them on a plate covered with kitchen paper to drain the excess oil. Let them cool down.
    Dust with icing sugar and serve.