Tagliatelle with Baked Pumpkin and Brown Sage Butter
Tagliatelle with Baked Pumpkin
and Brown Sage Butter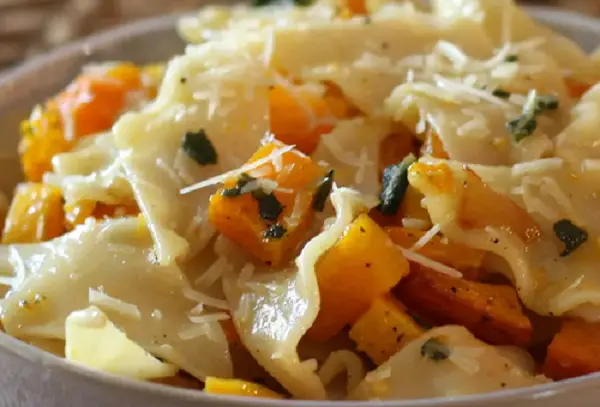 The sage butter sauce that is mixed in with the Tagliatelle with Baked Pumpkin gives the whole dish a perfect flavor I'm sure you'll enjoy.
This recipe can also be made with acorn or butternut squash if you wish.

INGREDIENTS
Serves 4 people
1 medium size pumpkin, skinned, seeded and cut into pieces

1 tsp of salt

1 tsp of fresh ground black pepper

1/2 of a fresh ground nutmeg

1 pound of Tagliatelle

1 small onion, finely chopped

1 garlic clove, finely chopped

4 Tbls of butter

1 Tbls of extra virgin olive oil

10 sage leaves

1/2 cup of fresh grated Romano cheese

PREPARATION

Pre-heat the oven to 350 degrees.

Place the pumpkin on a cookie sheet.

Drizzle with a little olive oil and season with salt, pepper and nutmeg.

Bake for 30 to 35minutes until lightly browned and tender.

In six quarts of boiling salted water, cook the pasta until al dente. Around 10 to 12 minutes.

In a large frying pan heat the butter and oil.

Add the onions and sage leaves and cook for 2 to 3 minutes until the sage is slightly crisp.

Add the pumpkin to the sage butter and cook 2 minutes more.

Drain the pasta and toss with the pumpkin mixture.

Plate and top with Romano cheese.