Tarragon Chicken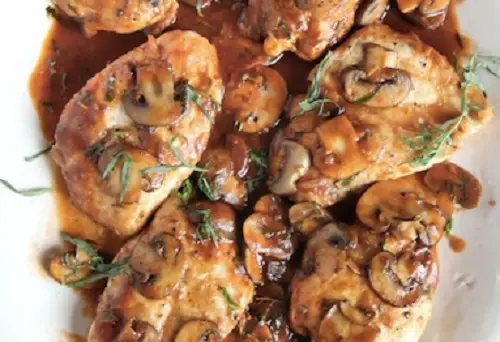 Ingredients:
1 pound boneless skinless chicken breasts

sea salt or kosher salt

freshly ground black pepper

1 Tablespoons olive oil

4 Tablespoons butter (optional), divided

8 ounces mushrooms, sliced

1/4 cup whole wheat flour

1/2 cup white wine

1/2 cup chicken broth

1 tablespoons tomato paste

1/4 cup chopped fresh tarragon
Instructions:
Prep the chicken breasts.  If they are very large, cut them in half.  You should have six pieces. Place the breasts between two sheets of wax paper and pound them with a meat pounder until they are about 1/2 inch thick.  They need to be uniform in size so they are not so thick and cook evenly.  Season each piece with salt and pepper. Dredge in the flour and set aside.

In a large fry pan, heat the olive oil and 3 tablespoons of the butter and saute the mushrooms slowly over medium heat until slightly golden and soft, about 10 minutes.  As they cook, add a couple of grindings of black pepper and stir the mushrooms periodically.  Remove the mushrooms from the pan but do not wipe out the pan.

Add another tablespoon of butter to the pan and after it has melted, add the chicken breasts.  Saute the chicken until each side is golden, just a couple of minutes each side.  Remove the chicken to a plate.

Add the white wine to the pan.  It will sizzle.  Let it cook for a couple of minutes, stirring the bottom of the pan and releasing all the cooked "fond" – this is deglazing the pan.

Add the tomato paste and chicken broth and half of the fresh tarragon and stir until the tomato paste has completely been blended.

Return the chicken breasts and mushroom back to the pan.

Immediately turn the chicken over, so both sides get covered with the sauce. Lower the heat to low and cover the pan and cook gently for about 10 minutes.

Taste the sauce and adjust the seasoning by adding more salt if needed.  Remove the chicken breasts to a platter, pour the mushrooms and sauce over and garnish with the rest of the fresh tarragon.