Tomato Antipasti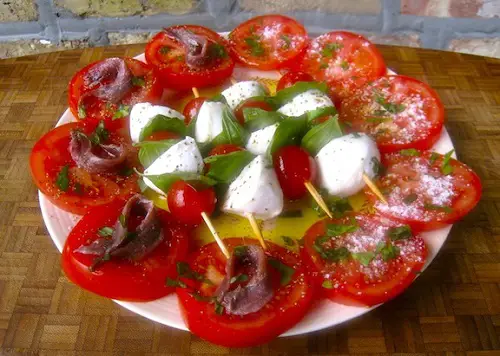 Ingredients
2 or 3 large ripe tomatoes, evenly sliced (more may be required, depending upon the platter size)

    1 small can of anchovies in oil, drained and separated into fillets

    2 tbsp chopped fresh basil (more may be required, depending upon the platter size)

    2 tbsp chopped fresh parsley (more may be required, depending upon the platter size)

    extra virgin olive oil

    red wine vinegar

    salt & pepper, to taste

    parmesan cheese
Directions
Arrange the tomato slices in one layer across a serving platter. Season with salt & pepper.

    Separate the platter into halves and place 1 anchovy on each tomato slice within one of the halves.

    Sprinkle the entire platter with the chopped basil and parsley.

    Drizzle the entire platter lightly with extra virgin olive oil before adding a splash of red wine vinegar.

    Give a light sprinkling of parmesan cheese to the side of the platter that does NOT contain anchovies.

    Serve.