Tomatoes Stuffed With Pecorino
Tomatoes Stuffed With Pecorino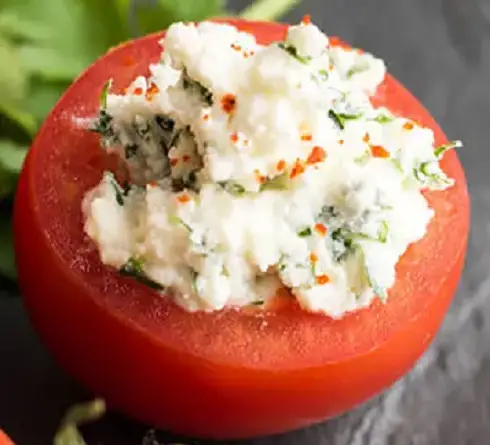 Ingredients:
8 tomatoes
7 oz (200 grams) mild Pecorino cheese, crumbled
3 and 1/2 oz (100 grams) mature Pecorino cheese, freshly grated
Large pinch of dried oregano
3 tablespoons extra virgin olive oil, plus extra for brushing
Salt and pepper
Directions:
Cut off the tops of the tomatoes.
Scoop out the tomato seeds and some of the flesh.
Sprinkle them with salt and turn upside down on kitchen paper to drain for about 30 minutes.
Preheat the oven to 200°C (400°F) Gas Mark 6.
Brush an ovenproof dish with olive oil.
Place both cheeses in a bowl and stir in the olive oil.
Add the oregano, a pinch of pepper and salt to taste if necessary.
Spoon the mixture into the tomato 'shells'.
Place in the prepared dish and bake for about 20-22 minutes.
Serve warm. Serves 4.