Torta di Rigatoni in Piedi (Standing Pasta Pie)
Torta di Rigatoni in Piedi (Standing Pasta Pie)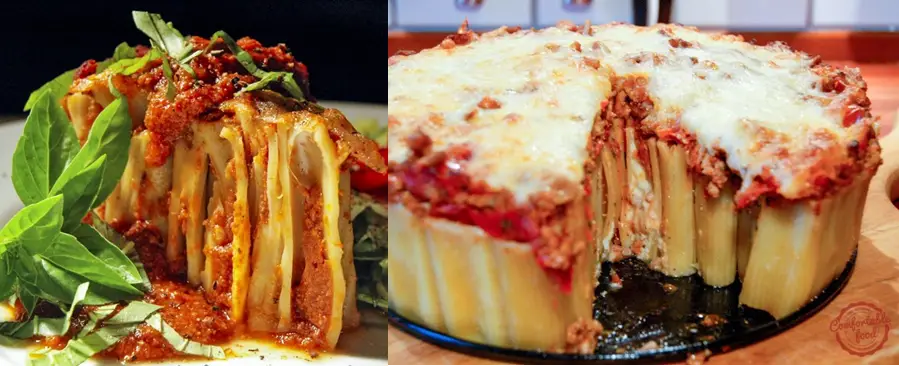 Standing tubes of pasta filled with a zesty ragù alla bolognese, covered in a layer of fresh mozzarella, baked to a golden brown

Ingredients
*Ragù all Bolognese
    1 medium onion

    1 large carrots

    2 ribs of celery

    4 cloves roasted garlic

    1 ounce pancetta very finely chopped

    1 pound ground beef not lean

    1 teaspoon salt

    ½ teaspoon freshly ground black pepper

    ¾ teaspoon Italian spices more or less to taste

    ¼ teaspoon red pepper flake optional and to taste

    Pinch allspice

    1 cup red wine

    1 large can diced tomatoes with their juice

    2 cups roasted tomatoes
Assemble
    1 pound Rigatoni

    1 tablespoon olive oil

    1 cup parmesan cheese finely grated

    4 – 5 cups bolognese* sauce prepared sauce can be used, there are some great one available

    1 cup fresh mozzarella cheese grated

    fresh basil garnish
Method
*Ragù all Bolognese
    Finely chop onion, carrot, and celery.

    In a heavy-bottomed saucepan over low heat, cook pancetta until all fat is rendered and pancetta is just beginning to brown. Add chopped vegetables and raise the heat to medium. Cook, stirring frequently, until onion is translucent and soft.

    Add ground beef to the vegetable mixture along with the salt, peppers, and spices. Cook until meat is browned crumbling with a spoon.

    Add tomatoes and garlic.

    When mixture begins to simmer, reduce heat to low and cook at a gentle simmer, stirring occasionally for about 30 minutes.

    Add wine. Cover pot, reduce heat to low, and allow sauce to simmer, 2 1/2 to 3 hours.

    Season to taste by adding more spices or salt.

    Heat oven to 400° F.
Assemble
    Cook pasta in heavily salted boiling water for about 12 minutes or al dente. Drain and rinse with cool water.

    Place pasta in a large mixing bowl and toss with olive oil. Add parmesan cheese and toss again.

    Butter the bottom and sides of a 9″ springform pan. Tip pan on a slight angle and stand the tubes of rigatoni on end until pan is full. One pound fits perfectly in the springform pan.

    Ladle the ragù small amounts at a time over the top of the pasta. Use a spatula to work the sauce into the noodles. Tapping the pan against the counter also helps to settle the sauce into the holes.

    Cover the top with an even layer of the grated mozzarella cheese.

    Bake in the 400° F oven for 25 – 30 minutes or until top is bubbling and golden brown.

    Remove from oven and allow to rest for about 15 minutes. Run a knife around the edge of the pan before removing the springform.

    Cut into slices and garnish with some fresh basil.