Torta Gianduja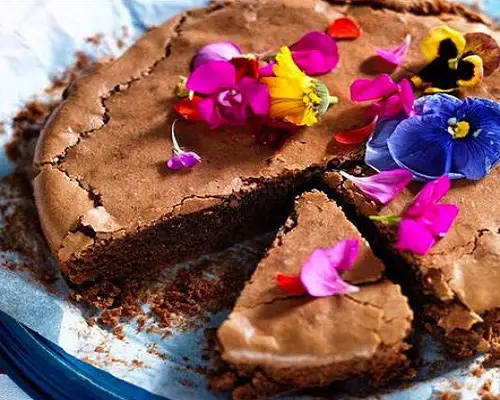 Ingredients
150 gr (3/4 cup) of unsalted butter

160 gr  (6 oz)of 70 % dark chocolate

45 gr (1/3 cup and 1 teaspoon) of dutch cocoa powder + extra for dusting

50 ml (1/8 cup)of hot water

1 teaspoon of vanilla extract

1 tablespoon of Frangelico or rum

250 gr (1 cup and 4 tablespoons) of firmly packed brown sugar

4 eggs

120 gr (1/2 cup plus 1 tablespoon) of hazelnut meal

Pinch of salt

Edible flowers to serve, optional flowers
How to
Heat your oven to 160 C (340 F)

Melt the butter with the chocolate in a double boiler

Pour the hot water into a bowl with the cocoa powder and whisk until there are no lumps. Add the vanilla and the Frangelico (or rum). Add the cocoa mixture to the buttery melted chocolate and stir to combine.

In a separate bowl, cream the yolks with the sugar with a whisk or an electric beater until fluffy then pour in the chocolate mixture. Add the hazelnut meal and stir to combine.

In a clean, dry bowl, beat the egg whites with a pinch of salt until soft peaks form. This will take about 1 minute if using a hand-held electric beater. A fair bit more if doing by hand…Gently fold the egg whites through the chocolate mixture using a large metal spoon. Pour the batter into a 20 cm round cake tin, lined with baking paper. Bake for 40/45 minutes or until the edges are firm and the surface it slightly cracked and feels soft in the middle.
As it cools down, it will sink in a little creating the perfect opportunity to be topped with strawberries, cherries, edible flowers, cream or all the above! You may dust it with icing sugar, cocoa powder or, if you feel exceedingly indulgent, coat it with molten dark chocolate…