Torta Montenegro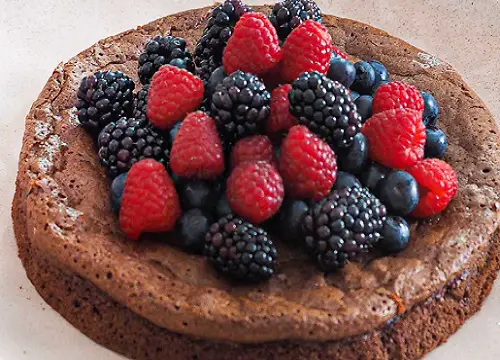 Ingredients
200 g dark chocolate (70 per cent cocoa solids), chopped
100 g unsalted butter
sea salt
4 eggs, separated
200 g caster sugar
2 tbsp plain flour
fresh berries and icing sugar for dusting, to serve
Instructions
1. Preheat the oven to 180°C. Grease and line a 20-22 cm round cake tin with baking paper.
2. Place the chocolate, butter and a pinch of salt in a heatproof bowl over a saucepan of just simmering water, making sure the base of the bowl isn't touching the water. Stir until melted and well combined, then remove from the heat and stand until completely cooled.
3. Place the egg yolks and sugar in a large bowl and whisk until thick and pale. Whisk the egg whites in a separate bowl with a pinch of salt just until firm peaks form. Add the cooled chocolate mixture to the egg yolk mixture and stir to combine well. Sieve the flour on top of the chocolate mixture and stir until just combined. Add one third of the beaten egg whites and fold into the mixture until well combined. Add the remaining beaten egg whites and fold in very gently so you don't beat all the air out. Pour the mixture into the prepared tin and bake for 30 or until just firm. Remove from the oven and stand to cool in the tin. Once cooled it will sink slightly.
4. To serve, top the cake with fresh berries.