Torta Pasqualina, a savoury pie of ricotta, spinach, lemon and nutmeg
Torta Pasqualina, a savoury pie of ricotta, spinach, lemon and nutmeg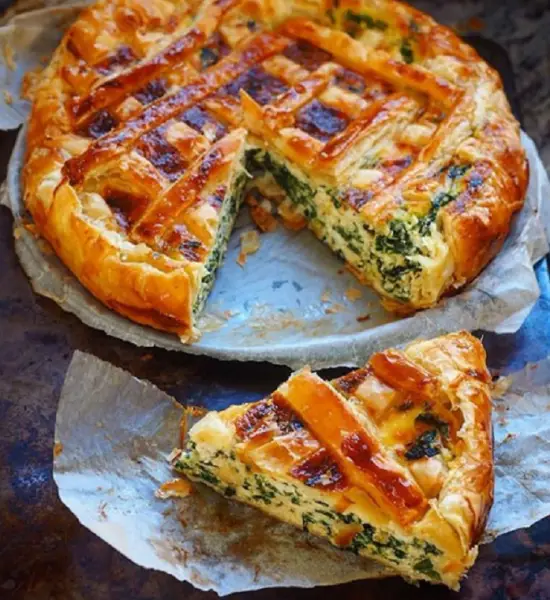 Much love!
🐣❤️ INGREDIENTS
2 tbs extra virgin olive oil
1 garlic clove, bruised
500 gr of baby spinach
400g ricotta, drained
1 tsp grated nutmeg
Finely grated zest of 1/2 lemon
1/2 cup (50g) grated parmesan
1/2 cup (50g) grated pecorino
3 eggs
375g frozen puff pastry, thawed
METHOD
1. Preheat the oven to 200°C. Line a 24 cm springform cake pan with baking paper.
2. Heat oil in a large frypan with a lid over high heat. Cook garlic for 30 seconds or until fragrant. Add spinach and cover with the lid. Cook for 3-4 minutes until wilted. Season with salt and set aside to cool. Remove garlic and discard. Drain spinach in a colander, pressing down to remove excess liquid.
3. Combine the baby spinach , ricotta, nutmeg, lemon zest, cheeses and 2 eggs in a large bowl, season and set aside. Roll out the pastry on a lightly floured surface until 5mm thick, then line the base and 4cm up the side of the pan to form a rim. Cut the remaining pastry into strips. Spoon ricotta mixture into base, smoothing surface with a spoon.
5. Arrange pastry strips in a lattice pattern over the filling. Lightly beat remaining egg and brush over pastry. Transfer to a baking tray and bake for 40-45 minutes until golden and crisp.
Join Joanne and Frank on Facebook at
and