Trippa alla Romano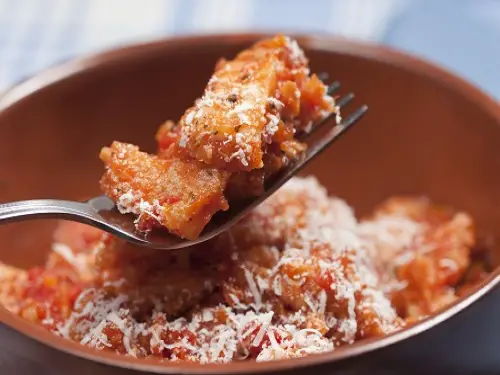 INGREDIENTS
3lbs of beef honeycomb tripe

1/4 cup of extra virgin olive oil

1 large yellow onion, chopped

3 carrots, chopped

3 stalks of celery, chopped

2 cloves of garlic, chopped

1/4 tsp of salt

1/2sp of fresh ground black pepper

1/2cup of dry white wine

2 15oz cans of crushed tomatoes

2 cups of cold water

1/2cup of fresh mint leaves

Shaved Pecorino Romano cheese

PREPARATION

Trim the fat from the tripe.

Rinse the tripe under cold water.

Then soak the tripe in a bowl of cold water for around an hour.

Rinse again.

Put the tripe in 8 quarts of boiling water then drain and rinse again.

Re-fill the pot with more fresh water and bring to a boil.

Add the tripe and reduce the heat simmer for around four hours adding more water if needed.

Drain the tripe and cool completely.

In a large pot sauté the onions, carrots, celery and garlic until tender. About 3 minutes.

Season with the salt and pepper

Add the wine and bring to a boil for about 1 minute while stirring.

Add the tomatoes to the vegetable mixture with 2 cups of cold water and the mint leaves.

Simmer uncovered for about a half hour.

Trim any remaining fat from the tripe and cut the tripe into 1 and a half inch strips.

Add the tripe to the sauce and simmer for around an hour.

Plate the tripe and serve it topped with the shaved Pecorino Romano. Tripe can also be served over your favorite pasta.

Serves 4 people.