Tuscan Bean and Pumpkin Soup
Tuscan Bean and Pumpkin Soup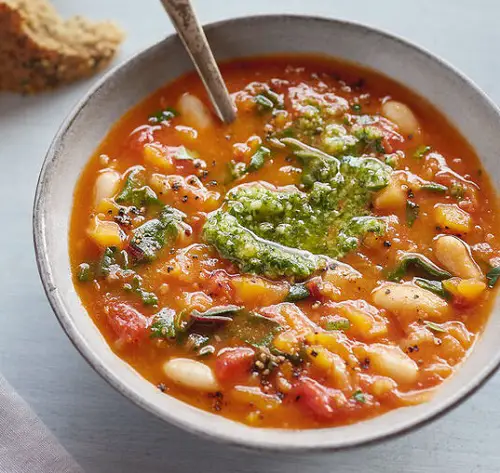 Ingredients
8 Servings
For Parsley Pesto:
½ cup walnuts
2 cloves garlic
4 cups fresh Italian parsley
½-¾cup olive oil
½ cup grated Parmesan cheese
½ teaspoon fresh ground black pepper
For Soup:
2 carrots, peeled and cut into 1-inch sections
1 rib celery, cut into 1-inch sections
1 medium onion, cut into wedges
2 small redskin potatoes, peeled and cut into quarters
2 cloves garlic
2 tablespoons olive oil
2 cans (15.5 ounce) cannellini beans, drained and rinsed
1½ cups pumpkin, peeled and cut into
2 inch chunks (can substitute butternut squash)
1 can (14.5 ounce) chopped tomatoes
2-3 cups vegetable stock or water
1 sprig rosemary
1 bay leaf
1 teaspoon sea salt
1 bunch Swiss chard, thinly sliced
3 tablespoons fresh parsley
Freshly ground black pepper to taste
Procedure
To make pesto:
Attach multipurpose blade to Food Processor.
Place walnuts and garlic in work bowl and pulse 3 – 4 times until finely chopped.
Remove walnuts into separate bowl.
Add parsley and pulse until finely minced.
Return chopped walnuts and garlic to work bowl and pulse 2 to 3 times to combine.
With Food Processor running on low speed, pour olive oil into narrow feed tube so oil slowly drizzles into pesto.
Transfer pesto to medium bowl and stir in Parmesan cheese and black pepper to taste.
Set aside until ready to use. Can be made 2 days ahead and stored in refrigerator.
Clean work bowl of Food Processor and attach multipurpose blade.
One at a time, process carrots, celery, onion, potatoes and garlic pulsing 3 to 4 times to coarsely chop.
Heat olive oil in large stock pot over medium heat. Add carrots, celery, onion and garlic and sauté 2 to 3 minutes. Add cannellini beans and enough water to cover and simmer about 15 minutes until potatoes are cooked.
Let cool slightly then puree ½ of the soup base in food processor. Return to pot.
Wipe out bowl of processor and add pumpkin, pulsing 3 to 4 times to roughly chop. Add chopped pumpkin, tomatoes, vegetable stock, rosemary, bay leaf and salt.
Simmer over low heat until pumpkin is tender, about 15 minutes.
Add chard and cook 2 to 3 minutes.
Stir in parsley and season with black pepper to taste.
Pour soup into bowls and top with a 1 to 2 teaspoons of the parsley pesto.