Tuscan Rice Salad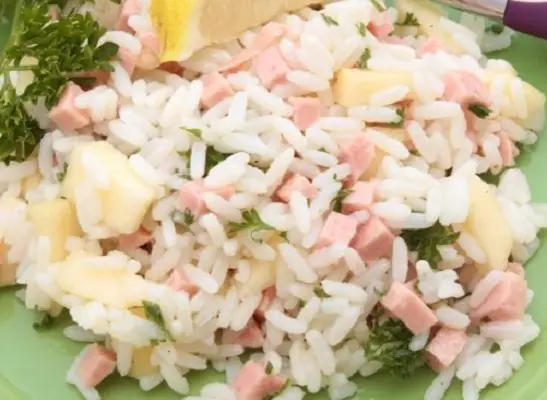 Ingredients:
Serves 4
1 cup Arborio rice or medium-grain white rice

3/4 teaspoon salt

1/4 cup red wine vinegar

2 tablespoons extra virgin olive oil

1 large egg

1 tablespoon grated Parmigiano cheese

Nonstick vegetable oil spray

1 cup finely diced cooked pork

1 cup frozen petite peas, thawed

1/3 cup chopped red onion

3 tablespoons chopped fresh Italian parsley

6 large lettuce leaves

1 medium tomato, cut into thin wedges
Directions:
Bring large saucepan of water to boil.

Stir in rice and salt Reduce heat to medium and simmer uncovered until rice is tender, stirring occasionally, about 15 minutes.

Drain rice well.

Whisk vinegar and olive oil in large bowl.

Add warm rice and toss to coat.

Whisk egg and Parmigiano cheese in small bowl to blend.

Spray medium nonstick skillet with vegetable oil spray and heat over medium-high heat.

Add egg mixture and stir constantly until scrambled and curds are set, about 1 minute. Remove from heat and cool.

Cut egg into small pieces. Season to taste with pepper.

Stir egg pieces, pork, peas, red onion and parsley into rice.

Season salad to taste with salt and pepper.

Line shallow bowl with lettuce leaves.

Spoon rice salad onto leaves.

Surround with tomato wedges. Serve at room temperature.