Tuscan Salmon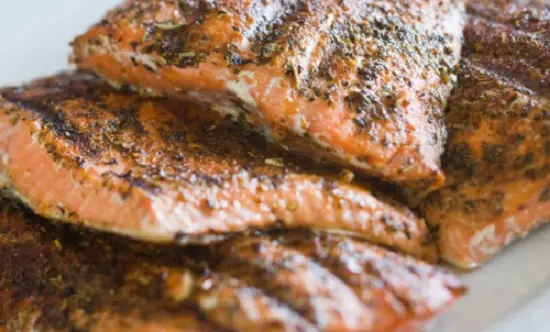 INGREDIENTS
4 6oz. salmon fillets

1 small jar of marinated artichoke hearts.

1 bulb of fennel chopped

1/2 cup of sun-dried tomatoes chopped

1 pound of fresh spinach

3 cloves of garlic chopped

5 Tbls of extra virgin olive oil

3 tsp fresh dill chopped

1/2 cup of lemon juice

1/4 tsp of salt

1 tsp of fresh ground black pepper.

PREPARATION

Heat oven to 400 degrees.

In a shallow baking dish, lightly coat the bottom with 1 Tbls of olive oil.

Place salmon, skin side down, in baking dish an sprinkle with salt and pepper.

Drizzle 2 Tbls of olive oil over salmon and set aside.

In a frying pan heat the remaining oil and add fennel, garlic and as many artichoke heart as you like. (Drain and pat dry the artichokes before adding them.)

Saute for about five minutes.

Remove from heat and stir in sun-dried tomatoes, dill and lemon juice.

Pour over salmon and bake 15 to 20 minutes until fish flakes with a fork.

Thoroughly wash spinach and steam until wilted.

Place salmon on a plate of spinach, top with mixture and serve your masterpiece.