Umbrian Fish Soup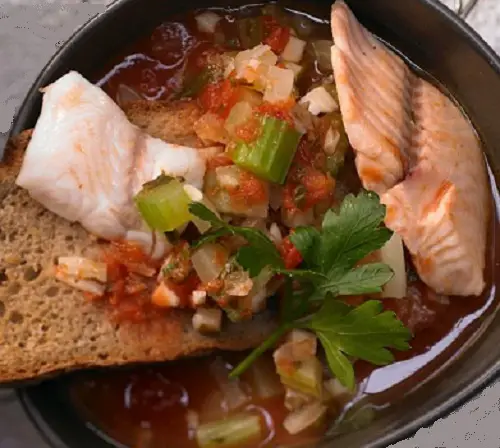 Ingredients:
For the Soup:
2 pound mixed freshwater fish fillets, cut into 2-inch pieces
1/2 cup chopped onion
1/2 cup chopped celery
4 garlic cloves, finely chopped
1/2 cup extra-virgin olive oil
1/4 cup chopped flat-leaf parsley
1 cup dry white wine
One (28-ounce) can crushed tomatoes (preferably Italian)
2 cups water
Chopped flat-leaf parsley
For the Toasts:
1 baguette
1 garlic clove
2 tablespoons extra-virgin olive oil
Directions:
Prepare the Soup:
Pat fish dry and sprinkle with 1/2 teaspoon salt.
Cook onion, celery, and garlic in olive oil with 1/2 teaspoon salt in a deep 12-inch heavy skillet over medium heat, stirring occasionally, until onion is softened but not browned, about 8-10 minutes.
Add parsley and cook, stirring, for 1 minute.
Add wine and boil until liquid is reduced by half, about 4-5 minutes.
Add tomatoes, water, and 1 teaspoon salt and bring to a simmer.
Add fish and reduce heat to cook at a bare simmer until just cooked through, about 10 minutes.
Prepare the Toasts:
Preheat broiler.
Cut 18 (1/2-inch) slices from baguette and toast 3-5 inches from heat, turning once, until golden, 3 to 4 minutes total.
Cut garlic clove in half and rub on toasts.
Brush toasts with olive oil.
Serve with soup garnished with parsley. Makes 6 servings.