Veal with Lentils and Pasta
Veal with Lentils and Pasta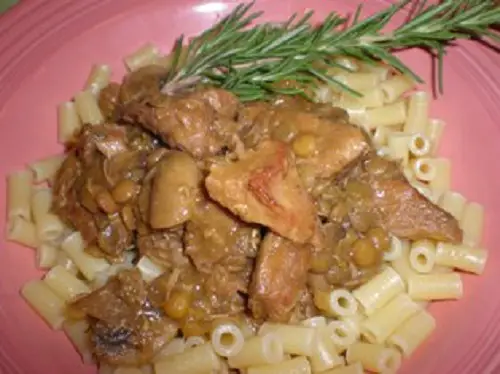 Ingredients:
1 ounce dried porcini mushrooms, soaked in warm water about 15 minutes

2 pounds veal for stew, cut into 1-inch pieces

Salt and pepper

Flour for dusting

3 tablespoons olive oil

1 medium onion, finely chopped

8 ounces fresh mushrooms, sliced

1 cup dry white wine

1 tablespoon fresh rosemary, chopped

1 cup chopped tomatoes

3 cups chicken or beef stock

1 cup lentils

3/4 cup small pasta, such as ditalini, tubetti, shells, or elbows
Directions:
Drain soaked mushrooms, reserve liquid and add it to the stock.  Salt and pepper the veal and dust with the flour.

Heat the oil in a large skillet and cook veal over high heat until veal is brown.

Add the onion and mushrooms and continue cooking.

When onion begins to brown, add wine and rosemary, cover and simmer for 5 minutes.

Transfer all ingredients to a large saucepan and add the tomatoes and stock.

Bring to a boil, then cover, reduce heat and simmer about 1-1/4 hours.

Add lentils and continue cooking about 1 hour.

Stir often to prevent lentils from sticking to the bottom.

Cook pasta.

Put pasta into individual soup bowls.

Ladle stew over top.  Serve.