Veal Shanks Milan Style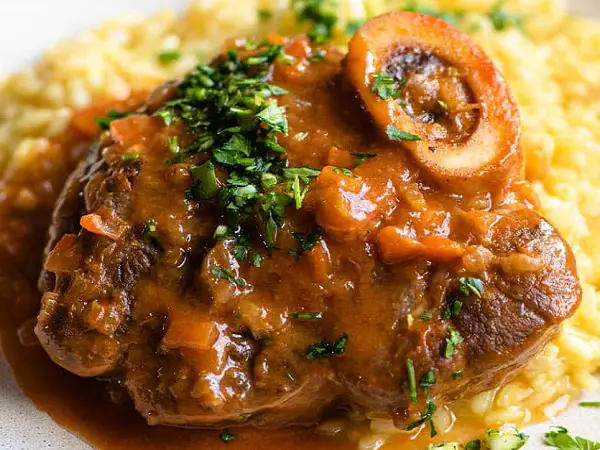 The perfect accompaniment for this dish is Risotto.

Ingredients
Yield: 6 TO 8 SERVINGS
6 veal shanks, 2 inches thick

½ cup all-purpose flour

⅓ cup olive oil

1 medium onion, finely chopped

1 carrot, finely chopped

1 celery stalk, finely chopped

¾ cup dry white wine

1 (28-ounce) can crushed Italian-style tomatoes

2 tablespoons chopped parsley plus additional for garnishing

2 garlic cloves, finely chopped

Salt and freshly ground pepper to taste
Instructions:
Place veal shanks on aluminum foil and sprinkle with flour.

Heat oil in a large heavy casserole over medium heat.

Add veal to casserole. Brown on all sides. Remove veal from casserole.

Add onion, carrot and celery. Sauté until lightly browned.

Return veal to casserole.

Stir in wine and cook until wine is reduced by half.

Add tomatoes. Cover casserole and reduce heat. Simmer 1½ hours or until meat falls away from the bone.

Add 2 tablespoons parsley and garlic.

Season with salt and pepper.

Arrange veal and sauce on a warm platter.

Garnish with additional parsley.

Serve immediately.