Vegetable Stuffed Peppers
Vegetable Stuffed Peppers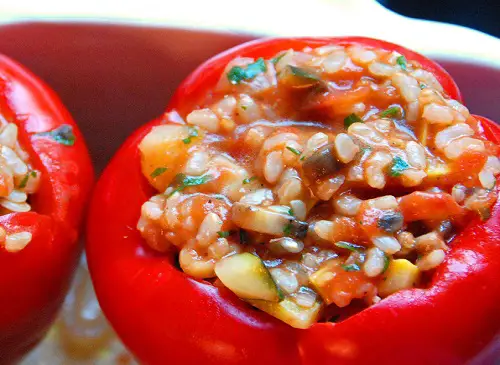 Ingredients
    4 large red peppers

    1 cup brown rice, cooked

    1 large zucchini, small dice

    1 large yellow squash, small dice

    1 large onion

    1 small container crimini mushrooms, small dice

    1 can whole peeled tomatoes, mashed up

    ½ cup chopped baby spinach

    2 cloves garlic, grated

    ¼ cup chopped parsley

    2 tbsp grated parmigiano reggiano cheese

    pinch dried oregano

    pinch pepperoncino

    olive oil
Method
    In a skillet over medium heat coat pan with some olive oil.

Saute the zucchini, squash, onion and mushrooms until slightly softened, roughly 5 minutes.

Add grated garlic, spinach, oregano and pepperoncino and some salt & pepper.

Cook for additional 2-3 minutes.

    Add tomatoes and bring to a boil. Reduce to a simmer and cook for about 15-20 minutes.

    While the filling is simmering away, carefully cut out the tops of the peppers and remove the seeds and ribs from the inside of the pepper. It helps to have small hands!

    Once the filling mixture has cooked for awhile, add all the brown rice and parsley and stir well.

Turn off the heat and add the cheese. Mix well again.

    Now for the fun part…stuffing! I use a teaspoon for this. Basically just stuff the filling mixture into each pepper, pressing the filling down into the bottom of the pepper. Fill them way up to the top.

    In the bottom of a baking dish, I put some water and oil (and some tomato sauce if I have some left over) to keep things moist. Arrange the now stuffed peppers in the baking dish and sprinkle the tops of the peppers with some olive oil.

 Bake at 375 degrees for about 45 – 60 minutes, or until the peppers have become slightly wrinkly and soft.