Vegetable Tortellini Bake
Vegetable Tortellini Bake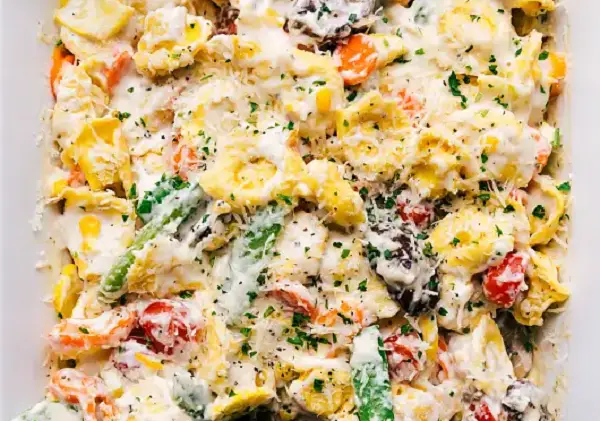 Ingredients
2 9-ounce packages refrigerated cheese tortellini

1 tablespoon olive oil

1 tablespoon butter

1 medium carrot, peeled and diced

1 red onion, thinly sliced

1 medium zucchini, sliced into half moons

1 medium summer squash, sliced into half moons

6 ounces button mushrooms, thinly sliced

1 red or yellow bell pepper, thinly sliced

4 cloves garlic, minced

1 cup frozen peas

1/3 cup chicken broth

1 cup milk

1 8-ounce package cream cheese at room temperature

1/4 cup pesto

Salt and pepper to taste

1 pint cherry tomatoes, halved

1/2 cup shredded Parmesan cheese
Directions
1. Preheat the oven to 350 degrees. Spray a 13 x 9-inch casserole dish with cooking spray. Cook tortellini in boiling salted water; drain
2. Meanwhile, heat olive oil and butter in a large skillet. Add carrot, onion, zucchini, summer squash, mushrooms, and bell pepper and cook until vegetables are fork-tender. Add garlic; cook and stir for 30 seconds. Season with salt and pepper.
3. Add the milk and chicken stock to the vegetables and heat until bubbling. Add cream cheese and stir until melted. Add pesto and stir until fully combined. Taste for seasoning and add salt and pepper if needed.
4. Add the cherry tomatoes and the sauce mixture to the reserved tortellini and stir to combine.
5. Pour mixture into prepared casserole dish. Sprinkle with parmesan cheese. Bake for 30 to 35 minutes or until bubbling.