Venison Chili Recipe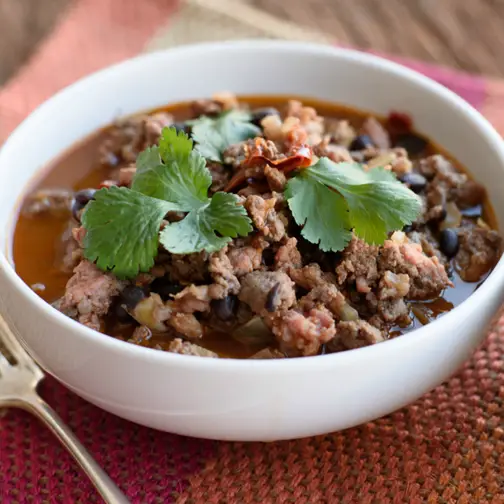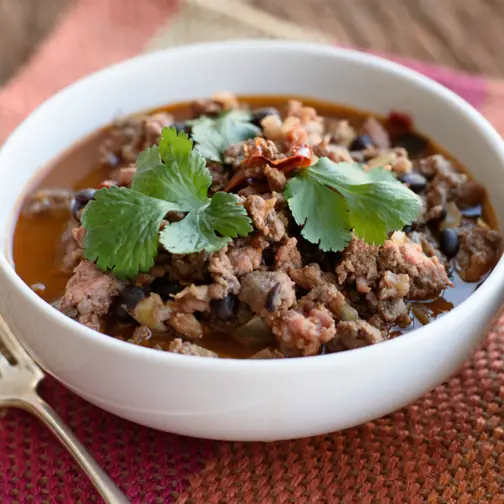 by SteaksAndGame.com
Settle down for an irresistible chili that's made for those cold Fall evenings or Holiday season get-togethers. Lean ground venison (or whichever ground meat you fancy), Italian sausage and black beans are boiled and simmered in veggies and seasonings, with chilies and paprika adding the perfect spicy kick. Just what Game Day was missing!
Prep Time:
Cook Time:
Total Time:
Yield: 6
Ground Venison Chili Recipe Instructions
Ingredients
0.5 lb, black beans
1 large chopped onion
3 chopped garlic cloves
4 tablespoon of extra virgin olive oil
1 lb, ground venison meat
0.3 lb, Italian sausage (or Chorizo)
Salt and black pepper
1 teaspoon, coriander (can be ground)
1 teaspoon, cumin
2 chopped dried chilies
1 tablespoon, paprika
2 tablespoons, tomato paste
Vegetable stock, as needed
Cilantro leaves for garnish
Directions
Soak your black beans in a medium-sized bowl of boiling water. As the water cools down, drain and add more boiling water. Repeat this process 2 more times.
Drain the beans and boil them in a large amount of water until they turn tender. Then drain and put to one side.
Using a large shallow pan (make sure it has a lid, for later use), heat 2 tablespoons of olive oil on high, then cook your chopped onions and garlic for 4 to 6 minutes until the onions become translucent.
Add your ground venison and sausage meat, mix together, stirring thoroughly with a wooden spoon. Season with salt and black pepper, coriander, cumin, chilies, paprika and finally the tomato paste. Mix well before covering completely with the vegetable stock. Boil the entire mixture before lowering the heat and simmering until the stock is reduced by almost half. This should take approximately 20 to 30 minutes.
Add more stock as well as the beans you prepared earlier, and cook for another 20 or 30 minutes. Once it reaches the desired consistency, garnish with cilantro and serve.