Zucchini and Eggplant Lasagna
Zucchini and Eggplant Lasagna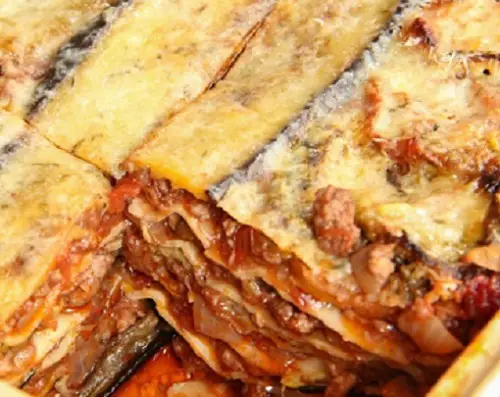 Ingredients
    Olive oil

    1 pound ground chicken

    3 Italian (hot or mild) chicken sausages, casings removed

    2 cloves garlic, minced

    1 8 oz package mushrooms, chopped

    1 28 ounce can crushed tomatoes

    1 7 ounce can tomato paste

    Salt and Pepper

    2 teaspoons dried oregano

    1 teaspoon dried basil

    1 teaspoon dried thyme

    1 teaspoon dried parsley

    2 medium zucchini, thinly sliced – long length

    1 medium eggplant, thinly sliced – long length
Directions
    In a large pan add about 1 tablespoon of oil over medium heat.  Add in ground chicken and chicken sausage.

 While cooking break apart into small pieces using a wooden spoon.  Cook for about 7 minutes.

 Add in garlic and mushrooms.  Let cook for 5 minutes; stirring often.

 Season with 1 teaspoon of salt and 1/2 teaspoon of pepper.

Add in crushed tomatoes and bring to a high simmer.  Add in tomato paste and stir around to smooth into the sauce.  Fill the tomato paste can with water and use a teaspoon to stir the extra paste into the water.  Pour into the pan.

 Add in oregano, basil, thyme and parsley.  Stir and reduce to a simmer.  Taste for any additional seasonings.  Cover keeping at a simmer.

 Preheat oven to 350 degrees.  Prepare a baking dish by covering the bottom of the dish with sauce from the pan.

 Take the zucchini and eggplant slices and lightly pat with a paper towel. Start by adding a layer of zucchini to the bottom of the pan.  Use a slotted spoon and scoop the meat and sauce from the pan to cover the zucchini.

    Add the sliced eggplant for the middle layer and again use the slotted spoon to cover the eggplant.  Use the remaining zucchini to top then cover with meat sauce.  Cover and bake for 1 hour.  Uncover and let sit in the oven while it is off for 15 minutes.

    Remove from oven and let sit 5 minutes then slice and enjoy!