Zucchini Ricotta Frittata
Zucchini Ricotta Frittata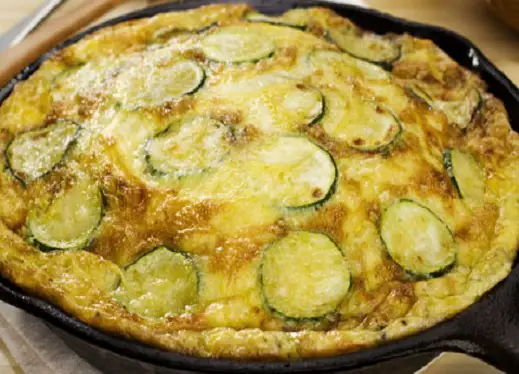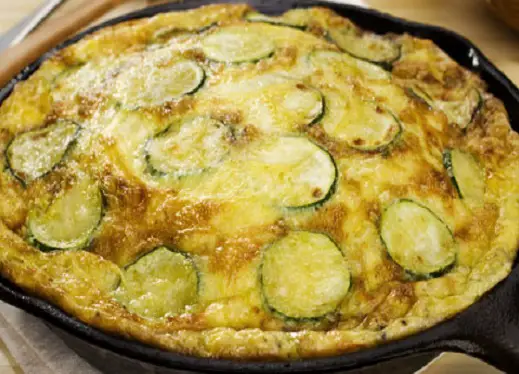 INGREDIENTS
Serves 4 people
6 eggs

1/2 cup of milk

1 cup of ricotta

1cup of shredded mozzarella cheese

1/4 cup of fresh grated Parmesan cheese

1/2 tsp of salt

1 tsp of fresh ground black pepper

1 Tbls of fresh flat leaf Italian parsley, chopped

6 fresh basil leaves, chopped

1 tsp of fresh thyme, chopped

1/4 cup of extra virgin olive oil

1Tbls of butter

1 yellow onion, chopped

2 cloves of garlic, chopped

1 medium zucchini, sliced into circles

3 thick slices of pre-cooked smoked pork butt, cubed

 

PREPARATION

 

In a large bowl whisk together the eggs, milk, ricotta, mozzarella, Parmesan, salt, pepper, parsley, basil and thyme and set aside.

Heat the olive oil and butter in a 10 inch oven proof non-stick skillet or a very seasoned cast iron skillet.

Cook the zucchini slices until they are slightly browned. Around 6 to 7 minutes.

Remove the zucchini from the pan and let cool.

Add the onions, garlic and smoked butt to the pan and sauté until onions a translucent and slightly browned. Remove from the pan and let cool.

Mix together the zucchini, onions and garlic with the egg mixture.

Re-heat the pan and add a little more oil to the pan if needed.

Add the egg mixture to the pan.

Cook for about 5 to 6 minutes until the bottom begins to brown. Use a spatula to separate the egg from the pan and check the bottom.

Place the pan under a broiler and cook for about 2 to 3 minutes more until the top is slightly browned.

Remove from pan and cut into slices.