Almond Eggs – Uova di Mandorle
Almond Eggs – Uova di Mandorle
by
Almond Eggs – Uova di Mandorle to help you celebrate easter with colors and sweets!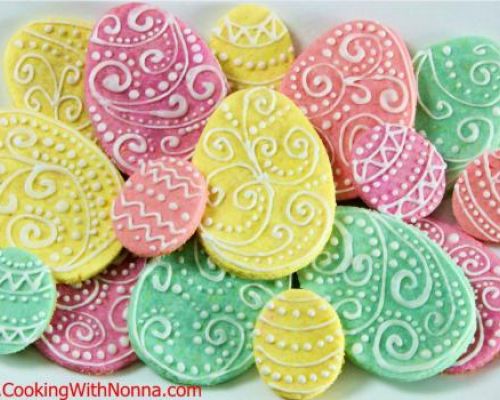 For the Cookies:
1

pound

whole peeled almonds

1/2

pound

granulated sugar

3

egg whites

lemons, zest only

4

drops red food coloring

all purpose flour for dusting the bottoms
For the Glaze:
1

cup

plus 2 tablespoons confectioners sugar

2

tablespoons

milk
Directions
Line 2 baking sheets with aluminum foil and set aside.

Place the almonds in a food processor and process for exactly 2 minutes.

Place the almonds in a bowl and add the sugar, egg whites and lemon zest. Mix until a thick paste comes together.

Divide the almond paste into 4 equal parts in separate bowls. Add food coloring to each bowl and mix together until the color is uniform.  Chill the dough for at least one hour or overnight.

Preheat oven to 350 degrees.

Once the dough is chilled roll it out between two sheets of parchment paper using 1/4 inch rolling guides.

Cut out different sized eggs with cookie cutters.

Dust the bottoms with four and transfer to the baking sheets. Bake for 8-9 minutes. Avoid moving the cookies off the foil until they cool. The cookies will be soft right out of the oven. They will firm up as they cool.

Cool completely before decorating.

To decorate with sugar glaze stir the sugar and milk together until you have a liquid glaze. For a thinner glaze add milk by the teaspoon until you reach your desired consistency.

Dip each heart halfway in the glaze. Lay on a wire rack and decorate with sprinkles while the glaze is still wet. Allow the glaze to dry completely before serving.