Stuffed Zucchini Flowers with Mozzarella di Bufala and Speck: an Italian Recipe
Stuffed Zucchini Flowers with Mozzarella di Bufala and Speck: an Italian Recipe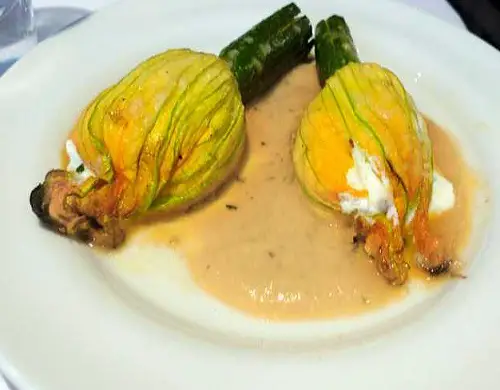 Here we are with another not fried stuffed zucchini flowers recipe. Instead of the classic mozzarella and anchovies, we are using a filling of Speck and Mozzarella di bufala.
Speck is a smoked cured meat, obtained by processing selected pork legs, seasoned with spices and herbs and smoked with selected wood. It is produced in the Südtirol region, in the Northern Italy. Taste the Speck as is, just with someh bread, or as an ingredient of more complex recipes like these stuffed zucchini blossoms.
Buffalo Mozzarella Stuffed Zucchini Flowers
The other important ingredient of this recipe is Mozzarella di Bufala, the tastiest variety of this fresh cheese. Complete the recipe with some Stracchino cheese and Grana Padano. A really delicious mix for your cheese-loving guests.
How to Prepare Stuffed Zucchini Blossoms
Instructions
Wash the zucchini and slice them into thinner slices.

Put 3 tbs of oil in a pan, add the Speck cutted in thin slices or diced, and chopped onion. Fry slightly. Then add the zucchini slices.

Simmer fo some minutes, salt and turn off the fire.

Meanwhile, gently dip the zucchini flowers in cold water and drain them.

Open the flowers slightly with your fingers and pull out the pistils that are inside, on the basis of the blossoms.

Put the pan-fried zucchini slices in a bowl, and add stracchino, 1 egg, pepper and 2 tbs of Grana Padano. Stir the ingredients until to have a creamy mixture.

Turn on the oven at 350° F.

Drain the mozzarella with a blotting paper, now cut it in 12 sticks, one for each flower.

With a pastry bag (or a teaspoon) fill in the flower with the cheese and zucchini cream and put a mozzarella stick in the middle. Then gently close the fower as if it were a candy paper.

Now oil a baking pan and lay the flowers on it. Dust with 2 tbs of Grana Padano cheese and cover with an aluminium foil.

Bake in pre-heated oven for 10 minutes. Remove the aluminium and bake for 10 minutes.

Serve it hot!
Zucchini flowers by Ewan Munro CC 2.0