4 Stagioni Pizza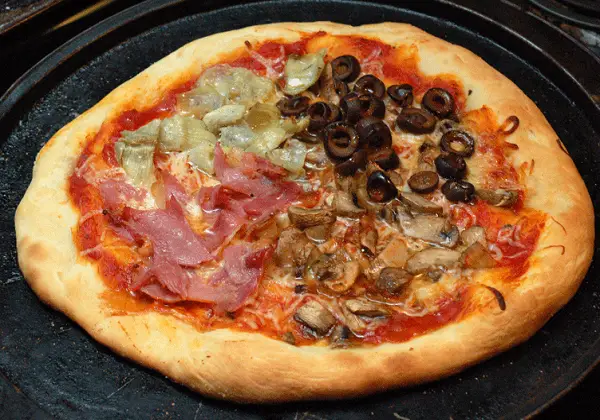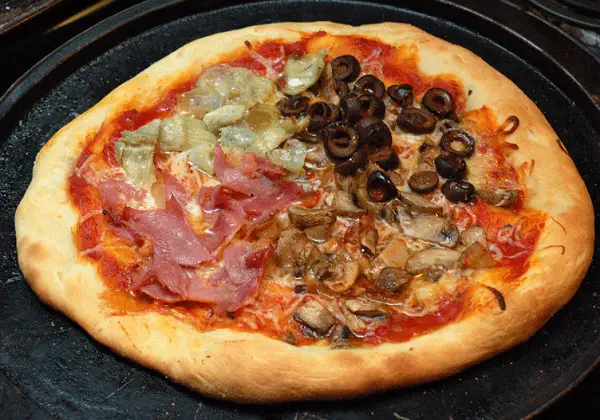 Ingredients:
Basic Pizza Dough (recipe below)

1 jar Cento pizza sauce (homemade see below)

Mozzarella cheese, shredded

Mushrooms, sliced and washed

Prosciutto di Parma, thinly sliced

1 jar marinated Artichoke hearts, chopped

Black olives, pitted

Extra virgin olive oil
Directions:
Preheat oven to 500 F….or to the highest temperature your oven will go.

Sprinkle pizza stone with cornmeal. Place one of the three portions of pizza dough on a lightly floured surface. With a rolling pin, roll dough until a thin circle. Place dough on the pizza stone. (Don't worry if your pizza dough isn't perfectly round…it will only give it rustic charm!)

Next, place a thin layer of pizza sauce on the dough, followed by a thin layer of mozzarella cheese…remember not to go crazy here, only add a thin layer of each! Next, you'll place one of the four toppings in each quadrant of the pizza:

Quadrant 1 = Prosciutto di Parma

Quadrant 2 = Black Olives

Quadrant 3 = Mushrooms

Quadrant 4 = Artichoke Hearts

Now, drizzle a little extra virgin olive oil around the outer edge of the pizza (on what will be the crust of the pizza). Using your fingers, spread the olive oil over the entire crust. Drizzle a little more olive oil over the toppings.

Bake in the pre-heated oven for 10 – 13 minutes, or until cheese sizzles and crust is golden brown. Keep an eye on it…it will bake fast!
Basic Pizza Dough
Ingredients:
1 1/4 cups warm water (105 F to 115 F)

1 tbsp honey

1 tbsp active dry yeast

2 cups all purpose flour

1/2 cup whole wheat flour (I substitute 1/2 cup bread flour)

2 tsp. kosher salt

1/4 cup olive oil

Cornmeal for dusting (optional)
Directions:
Pour the warm water into a small bowl, stir in the honey, and sprinkle the yeast over the top. Set aside to proof until foamy, about 10 minutes.

Combine the flours and salt in the bowl of a stand mixer fitted with the paddle attachment (or use a large bowl and a sturdy hand mixer). Add the yeast mixture and olive oil and mix on low speed until the dough forms a mass on the paddle and pulls away from the sides of the bowl, 4 to 5 minutes. (Note: I usually have to add a little extra flour near the end of mixing, if the dough is still too wet. Add a little at a time, if needed….in 1 tbsp. increments, until the dough comes together)

Remove the dough and divide it into 3 equal portions. Put on a flour-dusted baking sheet, cover with plastic wrap, and set aside in a warm place to rise for 30 minutes, or until almost doubled. (You can make the dough ahead and refrigerate it overnight if necessary; allow it to come to room temperature before continuing).

The dough is ready to be rolled and baked. You can hold the rolled dough at room temperature for a short while on a sheet of parchment paper that has been dusted with a little cornmeal.
Pizza sauce
Ingredients
    1 ½ cups water

    1 (6 ounce) can tomato paste

    ⅓ cup extra virgin olive oil

    2 cloves garlic, minced

    ½ tablespoon dried oregano

    ½ tablespoon dried basil

    ½ teaspoon dried rosemary, crushed

    salt and ground black pepper to taste
Directions
    Mix together water, tomato paste, and olive oil in a large bowl or jar. Add garlic, oregano, basil, rosemary, salt, and pepper; mix well.

    Let sauce stand for several hours to let flavors blend spread on dough.