Lasagna Cupcakes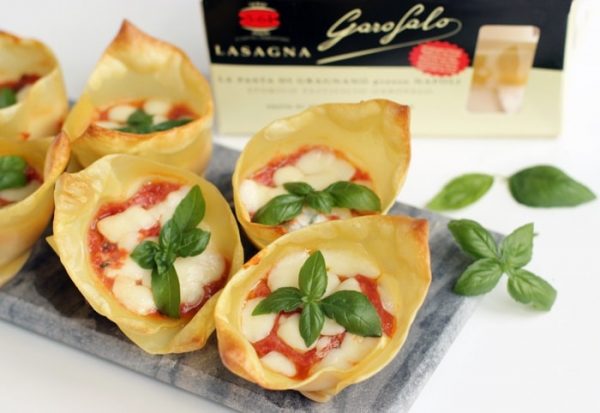 Lasagna Cupcakes Ingredients
6 lasagna sheets

225gr/ 1 cup homemade marinara sauce

225gr/1 cup herby ricotta

1 mozzarella ball, well drained and finely cubed

Extra virgin olive oil

a bunch of fresh basil leaves

salt & pepper
Instructions
Preheat oven to 375F/180C. Lightly oil a 6-cup standard muffin tin or coat with nonstick spray.

In a large pot of boiling water, blanch the lasagna sheet for 2-3 min until slightly softened.

Fit each lasagna sheet evenly into the cupcake molds

Transfer the herby ricotta into a piping bag or use a spoon. Fill each lasagna cup with 1 tbsp of cheese filling.

Add 1-2 tbsp of marinara sauce in each cupcake to cover the ricotta mixture.

Top each lasagna cupcake with cubed mozzarella.

Drizzle with a little olive oil and season with black pepper to taste.

Bake for 10-12 minutes, or until the cheese has melted and the lasagna are cooked through and crispy golden brown.

Serve immediately, garnished with basil leaves.