GRILLED EGGPLANTS MARINATED WITH SALMORIGLIO (lemon and oil sauce)
GRILLED EGGPLANTS MARINATED WITH SALMORIGLIO (lemon and oil sauce)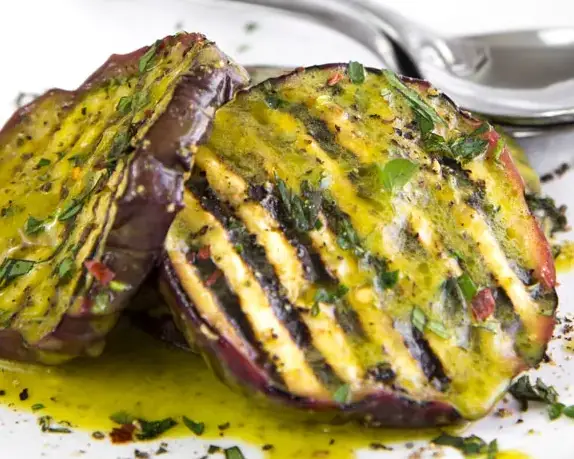 Ingredients
Serves: 4
    1 big eggplant

    75 oz (22 g) fresh oregano leaves

    75 oz (22 g) fresh mint leaves

    1 clove garlic

    ½ cup (120 ml) lemon juice

    2 tbsp rock salt

    1 cup (240 ml) water

    1 cup (240 ml) extra-virgin olive oil

    3 pinches table salt

    1 sprinkle black pepper
Instructions
PREPARING THE EGGPLANT
Reduce the eggplant into slices ½ inches thick, then season with 2 tbsp of rock salt.

Now, place the slices 2 hours in a colander on a bowl, and let the eggplant strain their bitter, dark juice. Gently, press down and stir the eggplant occasionally to speed up the process.

Finally, wash the eggplant and discard any trace of rock salt, then dry them with paper towels pressing down gently.
SALMORIGLIO MARINADE
Salmoriglio is a traditional Italian marinade made with some variation in Southern-Italian regions. It is very easy to prepare and typical to flavor fish, meats, and vegetables.

 Today we prepare a Salmoriglio with fresh mint, oregano, and lemon juice. First, rinse the herbs, then mash them with a pestle along with the garlic. Now, combine the lemon juice with water, and olive oil, then add the herb and garlic paste, and salt, and black pepper. Whisk Salmoriglio until consistent.

 Alternatively, combine all the ingredients in a blender and mix until consistent.
 GRILLED EGGPLANTS
    Grill the eggplant slices with a hot grilling pan a couple of minutes per side, until cooked but still in shape.

Once finish to cook all the eggplant, pour the slices in a bowl and cover with the Salmoriglio marinade.

Store the bowl eventually in the fridge and marinate at least 24 hours, up to 2 days. Serve the grilled eggplants at room temperature, seasoned with a few spoon of marinade along with fish or meats, like pan-seared swordfish or lamb stew, or simply as a vegetarian appetizer!