Anchovy Mashed Potatoes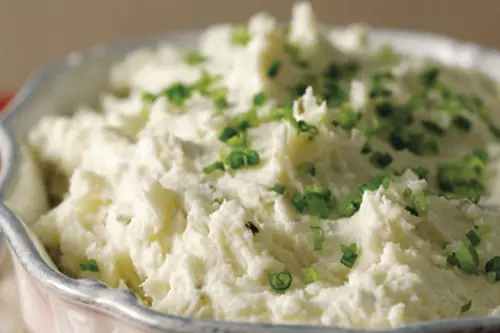 INGREDIENTS
3 large russet potatoes

    1/2 medium onion

    4 tablespoons unsalted butter

    1/2 medium onion, finely chopped

    4 flat anchovy fillets

    1/2 cup milk

    2 tablespoons heavy cream (optional)

    Salt and freshly ground black pepper

    4 tablespoons scallion
TOOLS YOU NEED
  Abbio Stock Pot

    Knife

    Cutting board

    Potato masher

    Strainer
PREP
Dice onion

    Dry and mince anchovy

    Chop scallion

    Peel potatoes (optional)
RECIPE DIRECTIONS
Fill Abbio Stock 1/2 full with water and bring to a boil.

    Cut potatoes into 1-inch chunks.

    Cook the potatoes, covered, until very tender, about 15 minutes.

    Drain potatoes and set aside.

    Melt 4 tablespoons of the butter in the Stock Pot.

    Add the onion and cook over moderately low heat until the onions are soft.

    Add the anchovies and continue to stir until the anchovies begin to melt away.

    Add the milk and heavy cream, season with salt and pepper to taste.

    Place the potatoes in the pot, and lower the heat.

    Mash the potatoes to your desired texture.

    Stir in the scallion greens and remaining butter and enjoy!