Tomato and Olive Braised Chicken Thighs
Tomato and Olive Braised Chicken Thighs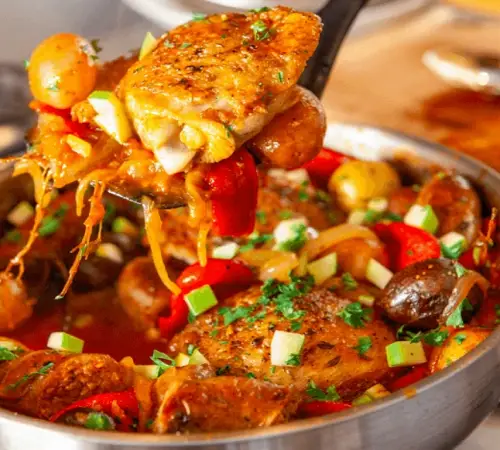 INGREDIENTS
    4 chicken thighs
    Salt and pepper
    3 tablespoons olive oil
    2 tablespoons butter
    2 shallots
    4 garlic cloves
    1/4 cup dry white wine
    2 cups Chicken Stock
    1 cup of cherry tomatoes
    1 cup of baby or fingerling potatoes
    2/3 cup green olives
    2 tablespoons capers
    1 whole, canned, roasted red pepper
TOOLS YOU NEED
    Abbio Saute Pan
    Measuring cups / spoons
    Cutting board
    Chef's knife
    Spatula
PREP
    Dry chicken thighs and season well with salt and pepper
    Mince garlic and chop scallion and set aside
    Pit olives and cut into halves
    Dice shallot
    Julienne pepper
RECIPE DIRECTIONS
    Pat chicken dry and season with salt and pepper.
    Add olive oil to Abbio Saute Pan and heat over medium-high heat.
    Add butter to pan and cook until it starts to brown.
    Place chicken thighs, skin side down first, in the pan and brown both sides.
    After browning, remove chicken and place on a plate.
    Add the shallots and garlic and cook until soft.
    Add the wine and deglaze the pan, scraping the brown bits off the bottom of the pan with a wooden spoon, and cook for 2 minutes.
    Add the stock and tomatoes and and turn heat to high.
    Once boiling, add the potatoes, olives, capers, and pepper and stir to combine.
    Reduce the heat to low so the liquid is simmering, and return the chicken to the pan.
    Cover and cook until the chicken is tender and the potatoes can be easily pierced with a knife, 30 minutes or so.
    Serve in a shallow bowl with a chicken thigh, a few bites of everything else, and spoonful of sauce.