Pan Fried Sole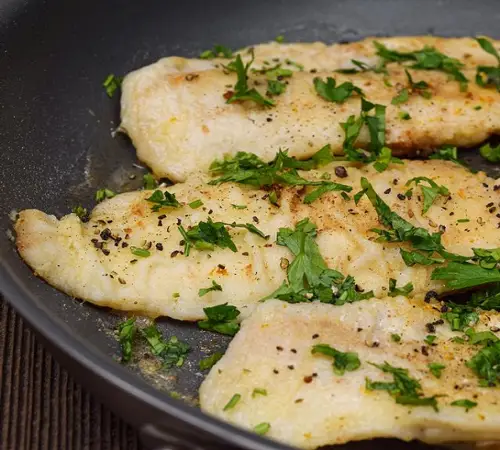 INGREDIENTS
    1/2 cup flour

    Kosher salt and freshly ground black pepper

    4 fresh sole fillets

    1/2 stick (4 tablespoons) unsalted butter

    4 tablespoons freshly squeezed lemon juice + zest of 1/2 lemon

    2 tablespoons fresh parsley

    Salt and freshly ground black pepper
TOOLS YOU NEED
    Abbio Large Nonstick Skillet

    Cutting board

    Knife

    Silicon Spatula

    Plates
PREP
    Squeeze lemon into bowl and zest 1/2 of one lemon, set aside

    Roughly chop parsley
RECIPE DIRECTIONS
    Combine the flour, 2 teaspoons salt, and 1 teaspoon pepper in a large shallow plate.

    Pat the fish dry with paper towels and sprinkle one side with salt.

    Heat butter in Large Abbio Nonstick Skillet over medium heat until it starts to brown.

    Dredge sole fillets in the seasoned flour on both sides and place them in the hot butter. Lower the heat to medium-low and cook for 2 minutes.

    Turn carefully with spatula and cook for 2 minutes on the other side.

    While the second side cooks, add lemon zest and lemon juice to the pan.

    Sprinkle with the parsley, salt, and pepper and serve.