Anguilla (Capitone) in Umido (Stewed Eel)
Anguilla (Capitone) in Umido (Stewed Eel)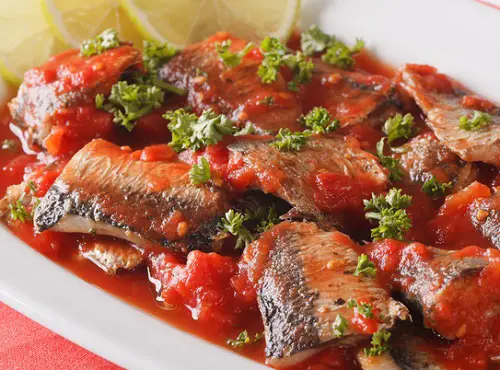 Ingredients
Servings: 4 – 6
Total time: 45 min
– 2 pounds fresh eel, gutted with head, tail and fins removed

– 2 medium tomatoes, diced

– 2 cups tomato puree

– 1/4 medium onion, minced

– 1/4 cup parsley, chopped

– 3 – 4 basil leaves

– 1 bay leaf

– 1/2 cup white wine

– 1/3 cup extra virgin olive oil

– Salt
Directions
Slice the cleaned eel into rounds about 2 inches in diameter.

In a sauté pan over medium high heat, add the oil, wine and onion. Sauté for 2 – 3 minutes or until the onion begins to turn translucent.

Once the onion has softened, add the eel pieces to the pan. Sauté the eel until all of the pieces are lightly browned on both sides.

Add the tomatoes to the pan. Lower the heat to medium and cook the tomatoes for 5 – 8 minutes until they begin to break down.

When the tomatoes break down well, add the tomato puree and a generous pinch of salt to the pan along with the basil leaves and the bay leaf. Add 2/3 cup of water to the pan. Stir well and bring the sauce to a simmer; then cover the pan and cook for 20 minutes, stirring occasionally.

After 20 minutes, stir the sauce. If it is too thick, add more water until you get your desired consistency. Add salt as necessary as well.

Add 3/4 of the parsley to the sauce and simmer, uncovered, for another 5 minutes.

Plate the eel with the sauce and sprinkle the rest of the parsley over the finished dish. Serve hot.