Salt Cod (Baccalà) with Potatoes
Salt Cod (Baccalà) with Potatoes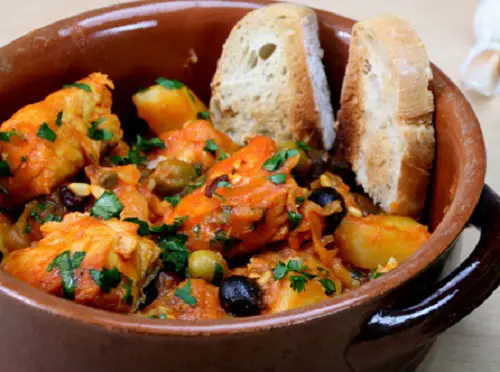 Ingredients
Servings: 6 – 8
Total time: 40 min + at least 4 days to soak the cod
– 1 fillet of salt cod (presoaked or not), cut into large pieces

– 3 cloves garlic, peeled and minced

– 1 red bell pepper, seeded and minced

– 2 stalks celery, minced

– 1 medium carrot, diced

– 1 medium onion, peeled and minced

– 3 medium tomatoes, diced

– 2 medium potatoes, cubed

– 1/2 cup gaeta olives (or flavorful black olives of your choice)

– 1/2 cup castelvetrano olives (or flavorful green olives of your choice)

– 24 ounces tomato sauce

– 1/3 cup fresh parsley, minced

– 1/3 cup white wine

– 1/3 cup extra virgin olive oil

– Salt and pepper
Directions
If using unsoaked salt cod, you will need to soak it in water for 4 days, changing the water every 12 hours in order to remove the salt from the fish and to rehydrate it. To do this, fill a large bowl with fresh water. Rinse the salt cod pieces to remove the excess exterior salt, and then place the rinsed pieces into the bowl with the water. Cover the bowl and refrigerate for 12 hours. Discard and replace the water every 12 hours (or 2 times per day) for the next 4 days. After 4 days, the fish should be springy and flexible. To ensure enough salt has been removed from the fish, you can tear a tiny piece from the interior part of the fillet and taste it. If it is still too salty for your taste, soak the fish for at least another 24 hours in fresh water. Continue soaking until you reach your desired level of saltiness.

Once the salt cod is ready, drain the water and set the fish aside.

In a large sauté pan, add the olive oil, white wine, minced garlic, minced pepper, minced celery, diced carrot, and the minced onion. Sweat and sauté the ingredients over medium high heat for about 8 minutes or until the onion and celery begin to turn translucent.

At this point, add the diced tomatoes to the pan, cover and simmer the mixture for another 8 – 10 minutes or until the tomatoes begin to break down.

When the tomatoes have broken down and begin to form a light sauce, add the tomato sauce, potatoes and salt cod to the pan along with 10 – 12 ounces of water. Stir the ingredients to incorporate them, and then bring the sauce to a boil. Once boiling, lower the heat to medium, cover the pan and simmer for 15 minutes, stirring occasionally.

After about 15 minutes, add the olives to the pan as well as the parsley. Cover the pan and continue to simmer the dish for another 10 minutes or until the potatoes have softened.

To thicken the sauce, uncover the pan, raise the heat to medium high and simmer, uncovered, until the sauce thickens to your taste. Taste the sauce and add salt and pepper as desired.

When the sauce is ready, remove it from the heat, plate it and garnish with additional minced parsley. Serve hot with toasted bread or our Bruschetta for dipping or over rice or polenta.