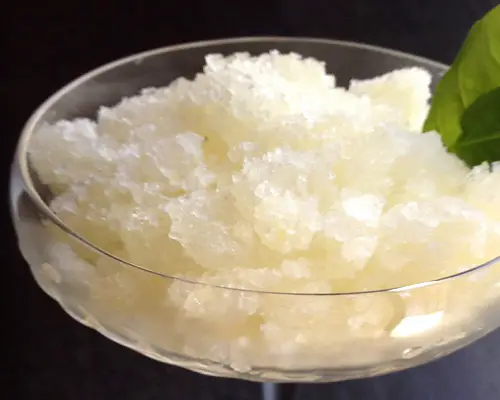 Tart and sweet and so good and refreshing!

8

limes, juice of

30

basil leaves

10

ounces

sugar

7

fluid ounces

water
DIRECTIONS
In a pan, dissolve the sugar in the water. Bring it to a boil and simmer for a couple of minutes. Remove from the heat, and add the basil leaves. Mix and leave to cool.

When it is cold, remove the basil leaves and discard them. Add the lime juice, including any fleshy bits, and mix.

add the vodka to it just before freezing. 

(optional)

Pour into a large freezer proof container, and put into the freezer.

Every 15 minutes, for 2 hours, take out of the freezer and mix it up. Then every half an hour until the granita appears grainy and the crystals have been broken down. It should resemble snow or coarse sand.

Enjoy!