Pasta with Fresh Tuna & Tomato
Pasta with Fresh Tuna & Tomato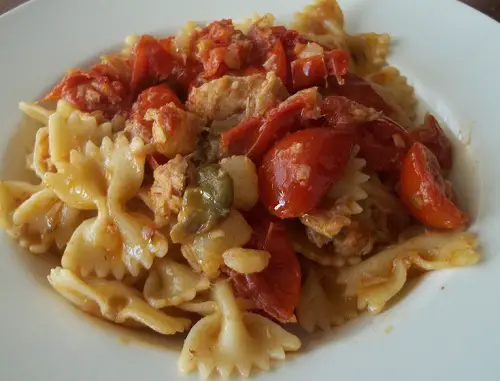 Ingredients
12 oz. fresh tuna, diced
6 tablespoons olive oil, divided
3 cloves of garlic, crushed
2 pints cherry tomatoes halved or a 14 oz. can chopped
¼ cup basil leaves, chopped
½ cup of white wine
1 lb. bow tie pasta
Salt and pepper to taste
1 tablespoon of chopped fresh mint leaves
A few sprigs of mint for garnish
Instructions
1. THE TUNA SAUCE
In a large skillet (12 ½ inch wide) place 3 tablespoons of oil and over a high heat sauté the tuna fish cooking it in batches. Fry each batch for about 2 minutes, stirring continuously. Transfer to drain in a dish covered with paper towels: set aside and sprinkle with some salt.
2. THE SAUCE
Discard frying oil and in the same skillet, over a medium heat place 2 tablespoons of olive oil and the garlic. When the garlic is light golden in color, add in the tomato, the chopped basil, salt and pepper to taste. Bring to a boil, lower the heat and simmer it for 10 minutes, stirring occasionally. Add the tuna into the sauce, add the wine and increase the heat to high, until most of the alcohol in the wine evaporates (1 or 2 minutes); adjust for salt, and lower the heat to a simmer. Cook the sauce for additional 5 minutes or until it reaches a good consistency.
3. THE PASTA
Cook pasta according to manufacture's directions, reducing recommended cooking time by 2 minutes. Drain pasta and reserve a cup of the cooking liquid.
4. THE ASSEMBLY
Transfer the pasta into the sauté pan with the sauce and add the minced mint and the remaining tablespoon of olive oil. Over a low heat gently turn the pasta for about 2 minutes. Toss until pasta and sauce are well combined and season to taste with salt and pepper. If pasta gets too dry add some of the reserved liquid. Remove from the flame and serve immediately in individual pasta bowls. Garnish each plate with a mint sprig. Pair the pasta with tuna with a Sicilian wine like the Etna Rosso by Grace, or a California Zinfandel or else a young Pinot Noir.
5. Note: 2 cans of 5 oz. tuna in oil, drained, can be used if fresh tuna is not available. Add the tuna to sauce, before adding the wine.