Apple Cider Doughnuts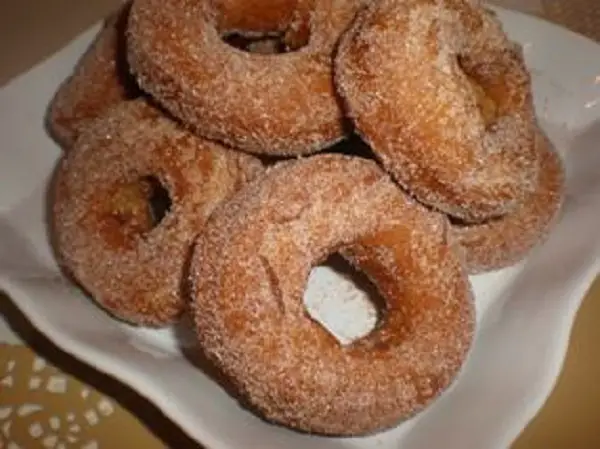 How about some apple cider donuts with a steaming mug of coffee or apple cider?
These apple cider doughnuts don't have an overwhelming flavor of apple or cider just a subtle sweetness. They have a cake-like texture. You can make them with the cinnamon-sugar coating or you can dust them with confectioners' sugar or drizzle them with the apple cider glaze.

Ingredients:
(Makes about 18)
2/3 cup packed brown sugar

2 eggs

1 teaspoon ground nutmeg

3/4 teaspoon salt

1/4 teaspoon ground cinnamon

1/4 teaspoon ground allspice

6 tablespoons butter, melted and cooled

1 cup apple cider

3-1/2 cups all-purpose flour

2 teaspoons baking powder

1/2 teaspoon baking soda

Oil for deep-fat frying

Confectioners' sugar or cinnamon-sugar, optional
Directions:
In a mixing bowl, beat the first seven ingredients until thick, about 5 minutes.

Gradually beat in butter, then cider.

In another bowl, combine the flour, baking powder and baking soda.

Add the flour mixture to the sugar-spice mixture; beat just until blended.

Cover and refrigerate 1 hour.

Divide the dough in half. Turn onto a lightly floured surface; pat to 1/2″ thickness.  Cut with a floured 2 1/2″ doughnut cutter. Repeat with remaining dough.

In an electric skillet or deep-fat fryer, heat oil to 375 degrees.

Fry doughnuts, a few at a time, for 2 minutes per side.

Drain on paper towels.

Dust with confectioners' sugar if desired or shake in cinnamon-sugar.
Alternate Apple Cider Glaze:
Stir together 1 cup of confectioners' sugar and 2 tablespoons apple cider.

Drizzle over doughnuts.
recipe from https://www.mangiabenepasta.com/apple_cider_donuts.html