Grilled Sausages with Figs and Mixed Greens
Grilled Sausages with Figs and Mixed Greens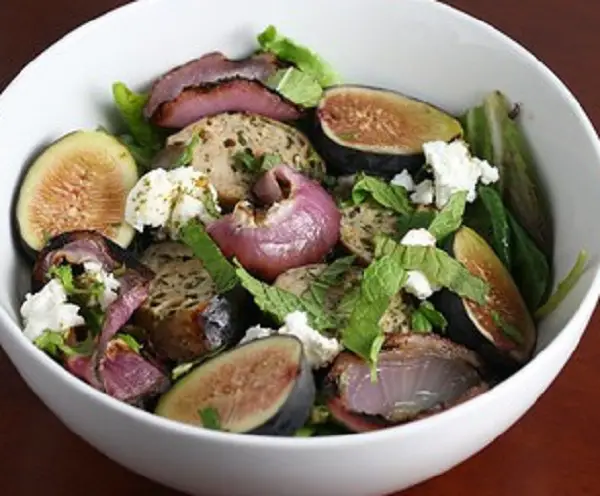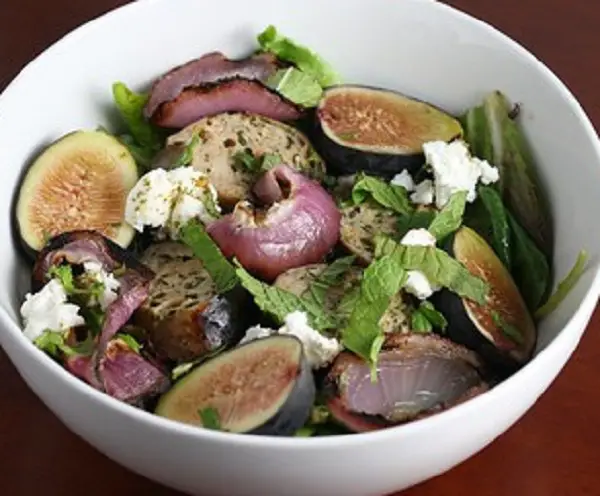 Ingredients
Makes 2 servings
2 sausages  spicy Italian sausage

2 or 3 1/2-inch thick slices of red onion

2-4 tablespoons Pomegranate-Cumin dressing (recipe below)

4-5 cups mixed greens

2 tablespoons crumbled feta

8 fresh figs, halved

2 tablespoons sliced fresh mint leaves
Directions
Preheat a grill or grill pan over medium-high heat. Brush the sausages and the onions with about 1tablespoon of the dressing.  Grill the sausages until cooked through, about 12-14 minutes. Then cook the onions until charred, about 10 minutes.

Toss the greens with the remaining dressing. Mound the salad onto a plate or bowl. Slice the sausages and place on top of the greens. Top the sausages with the cheese, figs, and mint.
Pomegranate-Cumin Dressing
Makes about 1 cup of dressing

5 1/2 tablespoons extra-virgin olive oil

4 1/2 tablespoons white balsamic vinegar

3 tablespoons sliced fresh mint leaves

1 1/2 tablespoons pomegranate molasses

1 tablespoon ground cumin

4 tablespoons minced shallots

Salt and pepper to taste
In a medium bowl, whisk together the oil, vinegar, mint, mint, molasses and cumin.  Stir in the shallots. Season with salt and pepper to taste.