Arancini Recipe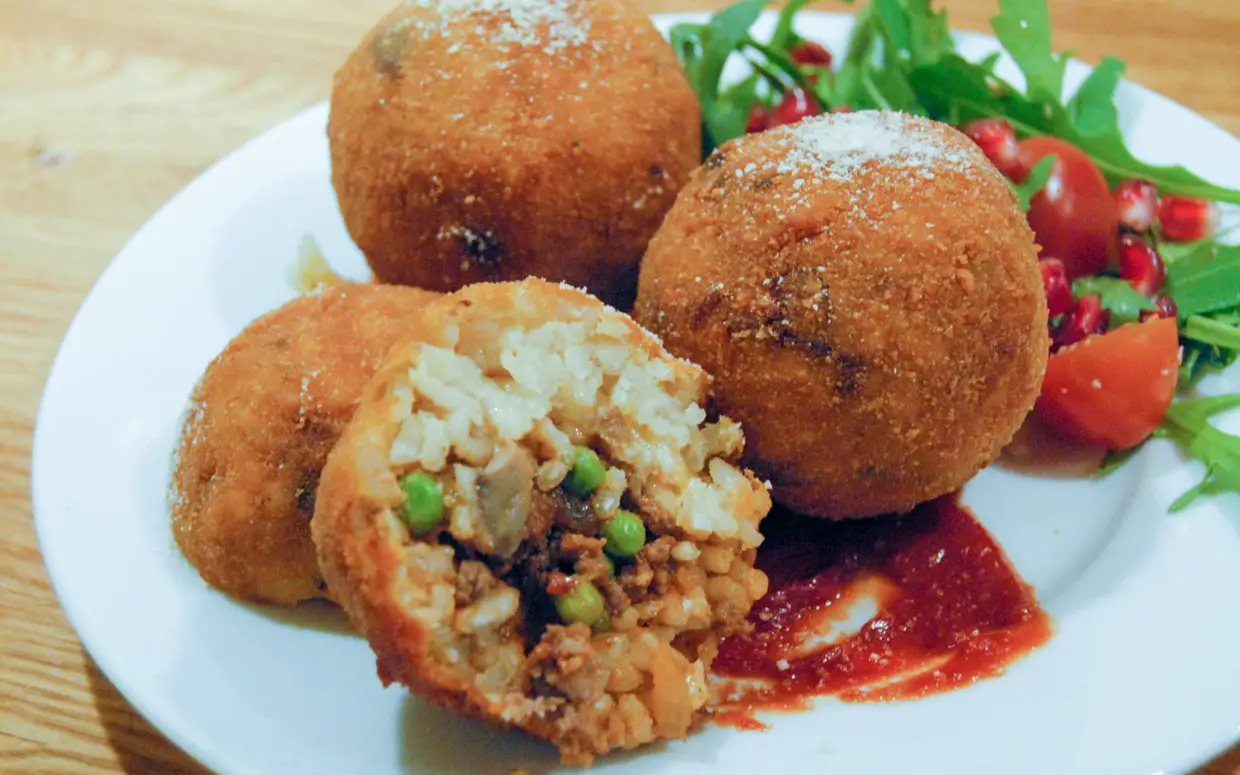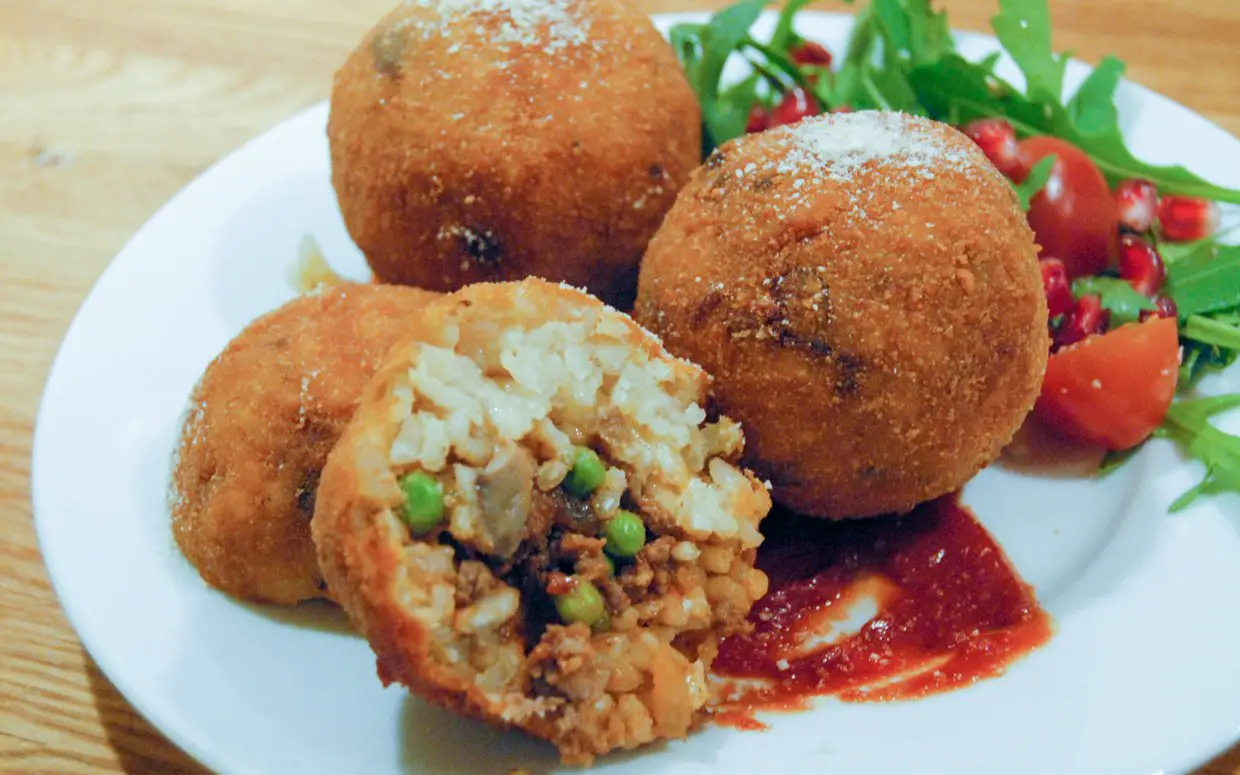 Arancini are  southern Italian street food. Made with fresh risotto and ground beef. Directly translated, arancini means "little oranges" given their color and shape!
Prep Time: 20 min. plus 1 day
Cook Time: 1 hr.
Serves: about 15 – 20 arancini
Ingredients
For the Filling
1/2lb Ground Beef
1/2lb Ground Pork
1/4lb Ground Veal (if available)
Soffrito (finely diced or food processor)
3

Carrot

1

White onion

3

Celery
Tablespoon of Extra virgin olive oil
½ to ¾ cup of Tomato Puree
2 tablespoons Tomato Paste
½ cup of frozen peas
¼ cup of white wine
For the Risotto
Carnaroli Rice 2.2 lbs
2 tablespoons of extra virgin olive oil
½ cup white wine
6 – 8 cups of chicken or vegetable stock
Saffron Threads (a pinch)
¼ cup of Parmigiano
3 eggs
Breading the Risotto
Flour
Eggs
Seasoned Breadcrumbs
Vegetable oil
Preparation
Step 1, The Meat Filling (Prepare the Day before)
Over medium to high heat, add extra virgin olive oil. Add carrots and celery, cook for about 3 – 4 minutes. Add onions. Cook Soffrito until all soft and onion is transparent.
Add white wine and cook for a 2 – 3 minutes. Add all of the ground meat (make sure you continue to ground the meat as fine as possible while it cooks), cook for about 5 minute before proceeding to next step.
Add 2 tablespoons of Tomato Extract and cook into the meat mixture. Add ½ cup to ¾ cup of Tomato Paste (some like it a bit saucier, add as you like), Cook for about 3 – 5 minutes. Add Peas and cook for about another 2 – 3 minutes.
Step 2, The Risotto (continuous stirring is key for this)
Simmer the stock next to the pot that you are using for the rice over medium to high heat. Add extra virgin olive oil and heat up. Add the Carnaroli Rice and toast the grains (about 2 minutes). Add the white wine and stir until the wine is fully incorporated into the rice.
Add 2 ladle's of stock and stir into the rice (keep stirring until rice has absorbed all of the stock). Repeat this process for about 25 minutes. (keep tasting around the 20 minute mark to determine when the rice is perfect.) Around the 20 minute mark, add the saffron threads and keep stirring.
Once it is perfect, turn off the heat and add the Parmigiano and stir in. Let the mixture cool (you can refrigerate or let it naturally cool to a bit below room temp). Once it is cool, add your eggs and mix well into the risotto.
Step 3, the Assembly
Make them at whatever size feel comfortable to you. We usually take 3 tablespoons of the risotto and flatten in the palm.
Add a tablespoon of the meat mixture. Add a piece of mozzarella or any soft good melting cheese (get creative here). Start to cup your palm to prepare for another 2 – 3 tablespoons of risotto to finish the ball shape.
Roll the arancini ball in the flour, then the roll it in beaten egg, and then roll in breadcrumbs. Repeat that again; flour, egg, breadcrumbs
Deep Fry and serve with a side of sauce for dipping. Enjoy!