Aranzada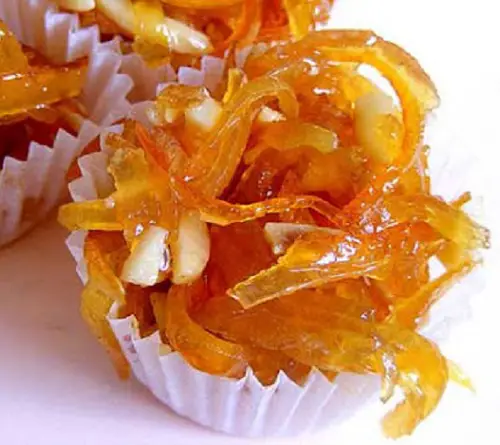 Aranzada is a type of nougat made especially in Gallura and in the area of Nuoro.
Ingredients For 4 people:
Peel oranges 300 gr
honey 300 gr
almonds 300g
PREPARATION
Peel the oranges by cutting the peel into strips and place for an entire night to soak in cold water. In the morning, dry them in the warm oven.
Apart peeled almonds in boiling water, cut into slices and toast them in the oven.
In a saucepan put the orange peel with honey over low heat, stirring frequently, and cook for about half an hour or until the honey is not thickened. A few moments before turning off the heat, add the sliced almonds and stir to mix well.
Coated aluminum foil in a baking dish and pour this amalgam caramelized, then with a spoon, level. When it is almost completely hardened cut into slices. Serve cold.