Asparagus fried with mushrooms and ham
Asparagus fried with mushrooms and ham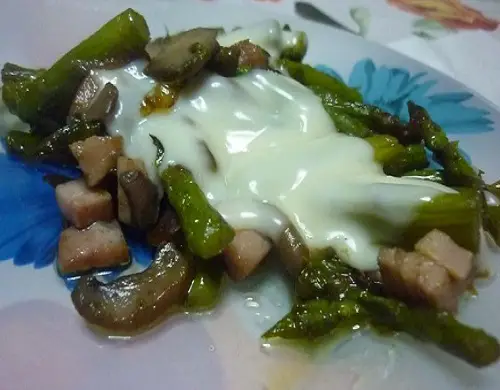 Ingredients for 4 people:
Asparagus 600 gr
champignons 350 gr
ham cut into cubes 200 gr
½ onion
1 clove garlic
extra virgin olive oil
margarine 30 gr
4 slices of cheese
½ cup dry white wine
a few basil leaves
salt, pepper.
PREPARATION
Cut the stems of the asparagus until only the most tender and put them to boil for about 10 minutes in a pot with boiling salted water. Separately, fry in oil and a clove of crushed garlic, just is golden, remove it and add the mushrooms and leave to cook on high heat for about 10 minutes and add f salt and pepper.
Return to asparagus, drain and set aside. In a saucepan, sauté the finely chopped onion together the margarine and, when it is golden, add the asparagus, cut into small pieces, sprinkle with the white wine and simmer for about 15 minutes. At this point, add the mushrooms and diced ham and cook for another 5 minutes. Immediately before you finish cooking salt and pepper and add the chopped basil leaves, mix well, and finally laid on the sauce slices of cheese. Cover the pan for 5 minutes, then serve.